Discover more from Adventures of Bad Hijabi
Oh hai. I'm disimpacting my brain.
The Living Room Needs Cleaning Up
Week 46 of 2023 | Week 6 of the Hamas-Israel War | 100 weeks til Canada votes
Canada has become a hotbed of extremism generated by external influencers. Careful tracking of any issue will take you to some kind of foreign operator exerting influence via activism and information dissemination. Over the past decade I have observed an intense +psychologically cruel + authoritarian political discourse unfolding. I have watched the devolution of public trust in the domestic institutions integral to our society happen alongside this growing division in the populace. To a large degree, American agitprop drives socio-political discourse in Canada — inevitably so. Existing next to a narcissistic + bloated giant has shaped the Canadian national identity in ways we don't always see. Mostly, Canadians have come to terms with American influence, we have always struck a balance. That balance seems off-kilter now. The lovely living room above the meth lab needs cleaning up!
In the post-national narcissistic Canada of Justin Trudeau, I find my country particularly vulnerable to the infiltration of extremism via the psyops of ideological manipulation, aka information operations from multiple global actors, including oligarchs and superpower states. Sex Denialism in the form of Gender Self ID initially drew me into the political world, and I remained within the echo chamber of that ideology and the adjacent anti-woke, intellectual dark web dogmatic sarcophagi. After a while, it became clear to me that everything looks the same underneath the hood. I began to see that I live in a society positioned at the cusp of a unique temporal convergence of many political, social, psychological and human transformational processes.
A lot of collective dysfunction boiling below the surface has exploded in the aftermath of the October 7th Massacre. The NoSpaceForHate TWAW MeToo ExtinctionRebellion segment of the Canadian population quickly jumped onto the pro Hamas bandwagon and trotted out every single antisemitic trope going. The hardship is the ease and the horrible massacre has shed light on the destructive forces at work within Canada. Those who purported to want to end racism thru DEI have also revealed themselves have the most extreme + racist ideas about humans who do not look like them. Black Supremacists trotting around collecting big money lecturing Canada on White Supremacy, the Laurentian Elites punishing the working class with their sermons on privilege, the strong science denialism and Lysenkoist social justice themes that provide the undercurrent of social and political policy — these have all converged to harm Canadians.
We let down our guard and we excused a policy of corrective rape in Canadian correctional facilities, we excused destruction of national monuments, we excused vandalism in museums that threatened valuable precious art work, we watched workplace bullying pose as diversity training and we watched a group of black supremacists drive a white man to his suicide. Yet we claim to feel surprised at the state of affairs in this country's political discourse? All moments lead to now. The media bears a major part of the responsibility for failing to push back as strongly as they could have done.
Anyway. Moving forward we cannot repeat the same stupid mistakes.
Here is the rundown of extremism and antisemitism for the past week in Canada, based on what I have gleaned from information posted on X.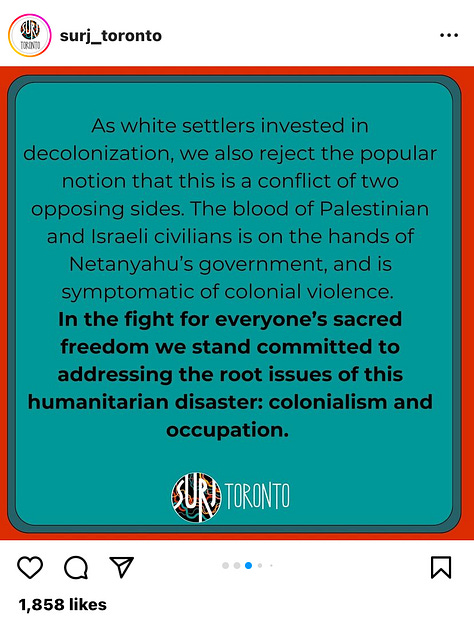 First of all meet the Equity Network of Hamilton. The Equity Network appeared on my radar on Twitter this week when it accused Ottawa-Carlton MPP Goldie Ghamari of racism for calling out Sara Jama's pro Hamas Islamofascist position on the Simchat Torah Massacre of October 7, 2023. Sara demonstrated her narcissism and inability to work as a member of a team in the immediate aftermath of the October 7th Massacre and the NDP expelled her from caucus and Ontario legislature censured her, both as a result of her irresponsible and extreme behaviour. Sara wrote an unhinged and antisemitic letter which many progressives signed, including the head of a sexual assault centre in Alberta.
I wanted to know more about this organisation, which does not have a non profit status. Equity Network is not transparent, there's spartan information about the people behind it and the money driving it. When I took a look around the website I found their blog and it revealed some interesting information. Equity Network has connections to Kojo Institute, the organization responsible for the DEI session in which Kike Ojo Thompson bullied + harassed Richard Bilkszto, calling him a White Supremacist in a cruel attempt to smear him for daring to challenge the veracity of her claims about racial justice in Canada versus The United States. Ontario's Workplace Safety and Insurance Board (WSIB)…judgment, later obtained by the National Post, concluded that Ojo-Thompson's behaviour "was abusive, egregious and vexatious, and rises to the level of workplace harassment and bullying," and that she'd intended to "cause reputational damage and to 'make an example'" of Bilkszto.1
An inspection of Equity Network's Instagram account reveals Black Supremacy, Queer Supremacy, and subversive misanthropic social justice themes. No acknowledgement of the worst massacre of Jews since WW2, only an accusation posted October 14th that Israeli state defense amounts to genocide of the people who committed war crimes to genocide Southern Israelis. Equity Network accuses Israel and genocide and describes the existence of the state of israel as settler violence. So to clarify, Equity Network designates Jewish self determination as genocidal and violent. Equity Network denounces the alleged Islamophobia fuelling the suppression of "palestinian islamic resistance" know as Hamas.
Next, meet SURJ Toronto. SURJ, Standing Up for Racial Justice, comes from the USA and the Toronto chapter formed in 2016 in response to the Trump presidency. Investigative work tracks this left wing agitprop group back to the Tide Foundation. SURJ came onto my radar through their involvement in the terrorising of Scotiabank branches across the country, and then, through their ridiculous statement about Israel. The group espouses black supremacy and hatred of white people. SURJ Toronto, a foreign agitprop group from America operating inside Canada to deliberate subvert Canadian democracy and stability, describes Canada as "stolen land". As an aside, I just want to point out that not all Canadians "live on stolen land" — the land I live on is unceded, ie owned by Musqeam—the Musqeam Capital Corporation has a thriving portfolio of land and capital assets and the community thrives.
Here's a list of antisemitic attacks + rallies + disruptions that happened last week across Canada, to my knowledge, based on what I've seen in my travails on X.
Vandalism of Jewish owned Indigo Bookstore in Toronto - red paint was thrown across the owner's portrait. November 10
Pro Palestinian rally planned for Remembrance Day held the day after in Winnipeg - the media continues to promote hatred of Israel and Jews by tacitly endorsing the Hamas manufactured lies about level of casualties. Pro Hamas supporter Selma Jbara says "there needs to be a new agreement between Jews and Arabs" … oh you mean like the one that the Arabian Jews signed with Muhammad 1400 years ago and that he killed them over? No. November 12
Jewish School Shootings in Montreal - shots fired at Yeshiva Gedola school, the previous week haters shot at Talmud Torah Elementary School. November 12
Giller Prize Ceremony Disrupted in Toronto - Pro Hamas protestors terrorised attendees at the book prize ceremony to scream Free Palestine and accuse Israel of genocide. Charges have been laid. November 13
Trudeau mobbed by pro Hamas terrorists in Vancouver - Charlotte Kates et al of Samidoun fame mobbed Trudeau at a Vancouver restaurant to scream free palestine and some other stuff at him. A woman was assaulted outside the restaurant by a male protester and 100 cops had to hold back the mob of 250 terrorist supporters and protect the PM. November 14.
Sara Jama speech about "Zionist pressures" - Sara Jama has deeply hateful annd dehumanising views of Jewish people and of Eurocentric people, she has been spotted in a friendly interaction with Firas Al Nijam, she wrote a letter accusing Israel of Genocide which thousands of pro Hamas and Jew hating people signed. Sara expresses classic antisemitic tropes about the Zionist lobby persecuting her in a recent video. November 14.
Forest Hill, Mississauga Starbucks vandalised with hate slurs in Toronto - "Images show signs plastered to a window which read "a cup of coffee? You mean a cup of blood," and "shame." The words "blood on your hands" and "free Palestine" were also written on the window in red," according to CTV. November 16
Pierre Pollievre rally heckled by pro Hamas supporters in London, ON - pro Hamas narcissists disrupted Pollievre's speech to shriek ceasefire now and other pro Hamas slogans. November 16
Scotiabank HQ terrorised in Toronto - as part of an international "day of action" targeting political offices, businesses and workplaces that "fund, invest, and collaborate with Israeli genocide and occupation", pro Hamas narcissists terrorised Scotiabank HQ with a sit in, trespassing private property, refused to leave and clashed with police. November 17
U of AB Sexual Assault Centre director fired for signing letter denying Hamas rapes in Edmonton - Samantha Pearson signed the letter herself as the head of the sexual assault centre and then signed the letter for the sexual assault centre. The University fired her last week. November 17
Tanenbaum Community Hebrew Academy Bomb Threat in Toronto - An email received by the school reported that "multiple bombs" had been placed at the school and that "many Jews will die today". November 17
Pro Hamas Rally in Vancouver - Thousands of progressive narcissists gathered to shout delusions and lies about the Israel-Hamas war, started by Hamas on October 7th. Someone should remind the idiots that Palestinians have self determination and they chose Hamas, who transformed water pipes into rockets and used a hospital MRI scanner as munitions storage. A video from a T4P rally surfaced over the weekend, featuring a young child wearing a keffiyeh angrily screaming intifada to a mob of baying Jew haters. November 18
Townhall on Drug Advocacy with Taleeb Noormohamed disrupted by pro Hamas hecklers in Vancouver - pro Hamas narcissists disrupted a meeting with drug advocacy groups and community members being held to discuss the opioid crisis. The OD crisis has killed more people than did COVID and it the epidemic continues largely unnoticed. November 18
That's a limited list of hateful episodes that took place in Canada last week, the 46th week of 2023, that involved the expression of hatred and hostility toward Jewish and Israeli people and anyone who supports western nationhood. This lists tells you that hate happens nonstop, daily, across Canada. Jewish people fear for their safety. Ex Muslims and Christians fear for their safety. Anyone who dares to openly challenge terrorists fears for their safety. And leaders pretend they do not notice. If I had included the list of IRGC terror sightings and connections emerging, this list would be double the size. I have a few Canadian pro palestinian groups I scan on IG and TikTok to study their information operations.
Canada, wake up now—our lovely living room above the meth lab needs a clean up and it needs that sooner rather than later!
Adventures of Bad Hijabi is a reader-supported publication. I conduct behaviour analysis on + document + track extremism. I focus on anti semitic extremism + imperial roots of anti-Jewish hatred. I am tracking the Canadian pro Palestinian NGO terror proxies right now. To support my work please consider a paid subscription.