Discover more from Adventures of Bad Hijabi
Oh hai. I'm disimpacting my brain.
The Grand Mufti of Jerusalem
the father of Palestinian Nationalism in Spring/Summer of 1948
First of all, priorities, daily thoughts from Bad Hijabi.
walk your Dalek | don't let anyone steal your tuna sammich | go ahead + borrow the Tardis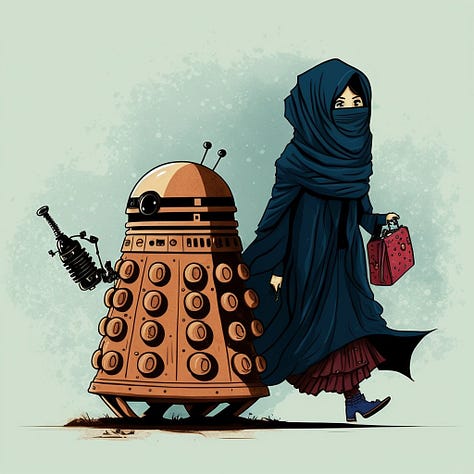 First Monday of the brand new year—woot woot. How you feel? What will you do with a whole new year? Doesn't it feel like getting a brand new pair of shoes when you were a kid and you couldn't help yourself and you wore them around the house all the time and tried to sneak them into bed, even? Hahaha.
I will spend the month January unravelling the origin of current thinking on the issue of the existence of Israel and the Arab nationalist opposition to Jewish presence in the Middle East masquerading as a collective victim of mythical Jewish colonialism. When new information comes to light, intelligent minds re-evaluate their positions. We call this learning and progress. Those who cannot do this belong to a cult—illogical and unreasonable attachment to an idea, to the point of harming self and others characterises cult behaviour. The widely available information on the conflict in the Middle East tells a tale, one that present-day emotions cannot tell.
---
Look, Bibi is not a great leader and he foolishly exaggerated the role of The Grand Mufti in The Final Solution. Bibi is a right wing nationalist, he's a bit of a corrupt sh1tbag. That doesn't delegitmise Israel. No one is calling for the destruction of India because Modi is Hindu extremist, yet people are callously calling for the destruction of Israel for it's politically sh1tty leader, when the embers from the mass industrial genocide of Jews still burn even decades and decades after the fall the Third Reich. One side in this conflict has always obstructed + in fact destroyed progress for hatred. Facts now clearly reveal that The Grand Mufti did sympathise + collaborate with the Nazis, was paid a handsome sum for it + possibly lived luxuriously in stolen Jewish property whilst doing it, and that he toured a concentration camp to learn about painless + quiet mass extermination methods.
Also look, the common mantra we hear chanted from the progressive pro-Palestinian mob of our day— from the river to the Sea, Palestine will be free—does indeed express a wish for the destruction of the Jewish Homeland, which is home to more than half of the world's Jewish population.
---
Adventures of Bad Hijabi is a reader-supported publication. To receive new posts and support my work, consider becoming a free or paid subscriber.
Are you ready for the truth? Have you primed your dragon or phoenix? Saddle up! Here we go on an adventure.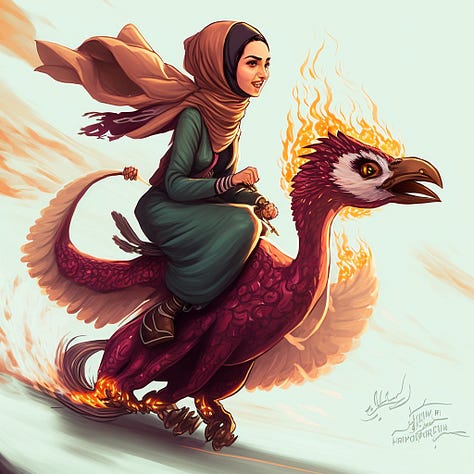 A series of communiqués declassified by the US government in 2006 portrays quite succinctly what various historical sources confirm about Hajj Amin al-Husayni, self appointed Grand Mufti of Jerusalem and Nazi sympathizer + collaborator.
June.1948 :: MUFTI [Hajj Amin al-Husayni aka al-Husseini] opposed any truce from the beginning; still insists on following conditions1 for solutions—
abolition of Israel

cessation of Jewish immigration

Palestinian Arabs to decide own future

Jews who have acquired legal Palestinian citizenship to remain and all other to be turned out

no solution to be valid unless approved by the MUFTI's own version of the ARAB HIGHER COUNCIL

MUFTI has declared that, if Arab states are induced by Britain to acknowledge annexation of Arab Palestine to Transjordan or to tolerate Israel, he firmly resolved to stir up their populations against their rulers
Other interesting facts about the Mufti's leadership + character revealed in this declassified US government dossier on Hajj Amin al-Husayni —
He controlled and terrorised the Arab masses to promote a geopolitical position founded entirely upon hatred of Jews, using money raised for guerrilla warfare and inciting violence against Arab leaders who dissented to his position + tactics

He created a terror situation for his people, driven by hatred for Jewish presence in the Middle East (and anywhere, really), he created Arab refugees with his narcissistic + tyrannical leadership style—Arabs fled Palestine because of the disruptions + riots + terror he continually incited, his policies and contracted leadership style created the primary terror for Arabs and Muslims

He is the worst enemy of his own people, whom he led into hatred and contracted thinking by telling them lies and created an entire system to serve his deranged thinking. He is the worst enemy of every Muslim—he decided to make al-Aqsa more important than The Prophet's own mosque because he hated the Jews so much—the Sauds captured Mecca + Medina from the Hashemites (now monarch of Jordan)

His supporters in the Arab League, representatives from Pakistan + Iran + Iraq, were members of Ikhwan min ta'a Allah

He encouraged Arabs to enter Transjordan as Palestinians refugees, and incited them to kill Emir Abdullah, because the Emir was amenable to negotiation with the British

His cousin(?), Dr. Musa al-Husseini, was executed in 1951 for his role in the assassination of King Abdullah
"If those Allies win this war … then the world will become Hell"
—Grand Mufti Hajj Amin al-Husayni in a 03.1943 radio address to American Arabs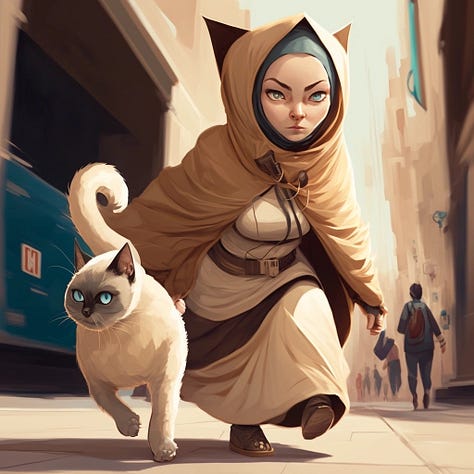 Some stuff being promoted as truth right now is Foucaudian truth, ie cultivated by discourse in a Goebbelsian fashion. Knowledge can be a talisman, thinking leads to learning. Some movements of people, and some individuals too, might not want you learn, when you ask questions they might not like it, they might react angrily. Follow your thirst for truth, listen to your gut, listen to your heart. Take responsibility for your intellect, do your due diligence, verify facts, question things.
Run from what's comfortable. Forget safety. Live where you fear to live. Destroy your reputation. Be notorious. —Rūmī.
1
CIA declassified documents—digitalised microfiche of cables sent—FBIB ATP 15 Jun 1948