Discover more from Adventures of Bad Hijabi
Oh hai. I'm disimpacting my brain.
The Fathers of Arabia
reconciling the legacies of Max + T.E.
Thought for today for myself from myself :: Keep going. You are here now because those who lived before you kept going when they felt like giving up, so you get on that damn bike and ride that b1tch like the boss you are. You are the sky, everything else is weather. You can. This is a moment, not eternity.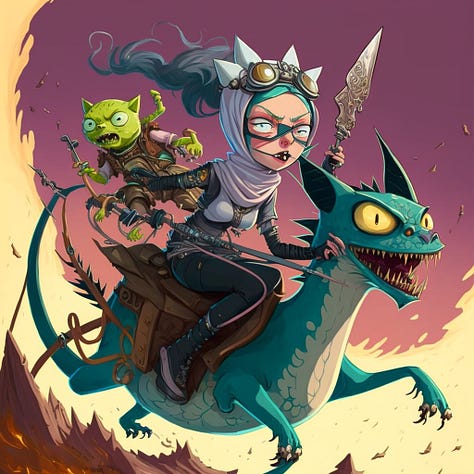 This week we've told you about Max von Oppenheim and T.E. Lawrence, imperial Arabists who left their mark on the world, and in particular on the Middle East. What do we make of our illustrious imperial heroes from a century ago? How do we reconcile the legacy these men left? More importantly, what stories do we tell ourselves as a collective hooman society to dodge the difficult questions about their legacies?
How do we know the difference between a terrorist and a freedom fighter? Are some war crimes acceptable if they achieve the desired aim for the right side of history? If the Ottomans and the Germans had won would T.E. have gone down as a terrorist rather than a hero? Ultimately both men failed and yet we remember them each for achieved greatness. What do we remember each man for, and how does that compare to the totality of their respective lives, and how does that measure up to their real world legacy? What does it say about societal values, the narratives we choose to cling to, about these men? Can we really definitively simplify a complex enigmatic creature such as hoomankind to some Hollywood trope?
When you google Max von Oppenheim you will learn about his spirit of discovery and the Montblanc fountain pens named after him. We know Max for his archeological and ethnographic work more than his political work as a pan-Islamist, an Arabist, a propagandist and the father of modern jihad as a geopolitical strategy. We know T.E. for his contribution to the Arab revolt and for the way he died rather than the tragic way he lived after his military campaign or his disadvantaged family of origin story, or for his archeological work. We see T.E. as the strapping Peter O'Toole figure and not the small and effeminate/gracile-looking man who lived—a man who felt more alive and belonging and powerful in arab robes than a British military uniform.
We view these men as heroic and leaning to a conquest, rather than as running from the reality of their own selves. We view these men as similar when we perhaps should not. Intentions make the man, and so these two men seem quite different — each served their king and country and each did so with different motives, when you judge their actions. Max viewed Orientals who needed European imperial guidance to organised themselves. T.E. viewed humans who suffered under an oppressive Ottoman regime for hundreds of years and needed and wanted independence and freedom and peace and prosperity. Max strategised to stick it to the enemy in a systemic way: devised a jihad plan to arouse the whole fanatical Moslem world against the Christians.1 T.E. sought to empower a nation of Arab peoples to retaliate against their oppressors, equipping them with weapons and assisting in the recruitment of manpower too. T.E. committed war crimes, taking no prisoners. Although on opposing sides of The Great War, their war efforts each shaped the way the modern Middle East formed and grew into its present day iteration.
So what is the legacy of these two Fathers of Arabia?
The dramatic partitioning of Ottoman lands in the post WW1 period.

The battle for Arab nationalism in the wake of Balfour Declaration.

Pan-Islamism thwarting diplomatic nation-building efforts.

British appeasement—(was this projected guilt for messing up with the Hashemites and Sykes-Picot)—indulging a hateful and seditious extremist (Amin al-Husayni) and placing him in a positions of power.
It's worth noting that, ultimately, no Arab leader would agree to a Jewish homeland in the Middle East, not even the most moderate King Faisal of Iraq. Neither did the British themselves feel too keen on the idea of the Jewish nation. They had zero troubles with Islamic nations, they facilitated them. They clearly had no trouble with their own Christian nations. Yet they would deny a Jewish nation, only one on the entire planet.
It seems like a cultish opposition to the presence of Jews. That seems like a common theme in all this history—hatred of Jews and resenting their presence to extremes.
Know what I think? I think if we don't take responsibility for the history that gets us to the present it will keep on coming for us until we do.
All men dream; but not equally. Those who dream by night in the dusty recesses of their minds awake to find that it was vanity; but the dreamers of day are dangerous men. That they may act their dreams with open eyes to make it possible.

— T.E. Lawrence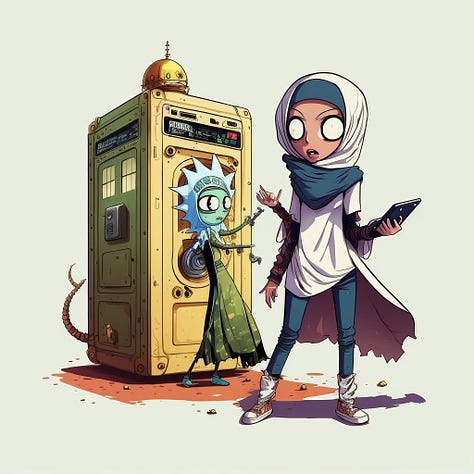 Adventures of Bad Hijabi is a reader-supported publication. To support our work, please consider becoming a paid subscriber.
We are entirely reader supported. If you value the work we do here please consider donating (scroll up to see the button) or becoming a paid subscriber.