Discover more from Adventures of Bad Hijabi
Oh hai. I'm disimpacting my brain.
Terrorists Hiding In Plain Site :: Canada
Samidoun Palestinian Prisoner Solidarity Network
Samidoun seeks to achieve justice for Palestinian prisoners through events, activities, resources, delegations, research and information-sharing, as well as building bridges with the prisoners' movement in Palestine. We seek to amplify the voices of Palestinian prisoners, former prisoners, prisoners' families, and Palestinian advocates for justice and human rights by translating, sharing and distributing news, interviews and materials from Palestine. — Samidoun website
"Samidoun Palestinian Prisoner Solidarity Network organizes to build solidarity with the Palestinian prisoners' movement and its struggle for freedom," says the Samidoun Twitter profile, which marks itself as international, despite the fact that the non profit's founding officers live in Vancouver.
Okay—so, about this. Reader, you know how in the GenderWang universe progressives use "puberty blocker" as a euphemism for chemical castration? Well, in the Pallywood universe "Palestinian prisoner" serves as a euphemism for "terrorist". So, that means Samidoun organises to build support for terrorists and recruit members to promote propaganda and raise funds for terrorist networks. Note the word "struggle", the Arabic word being "jihad". In this context jihad means only the lesser jihad, waging war against a designated enemy. Note the word "freedom". Freedom for terrorists means destruction of enemy target and domination over all.
The designated enemy in this case, for Islamists, is the Zionist, which translates to Jews + Europeans + Canadians + Americans.
Remember, terrorist denotes an individual afflicted with an extreme victimhood mentality, who dehumanizes, who devalues life, who lacks capacity for empathy + has no respect for others + does not honour boundaries or acknowledge limits. Islamists have devolved into a bloated billionaire's club of self worshipping misogynists who pray to God to celebrate the pogrom they instigated. Terrorists have for themselves abrogated the greater jihad, the battle with one's own ego. Pathological narcissism causes Islamists across the spectrum of extremism to lack empathy for others and view themselves as perpetually entitled to everything and never responsible to anyone, including themselves. The human condition means that we see things as we are — malignant narcissists filled with hate will see the Quran through that lens. Remember any text is simply words until the human mind gives it meaning.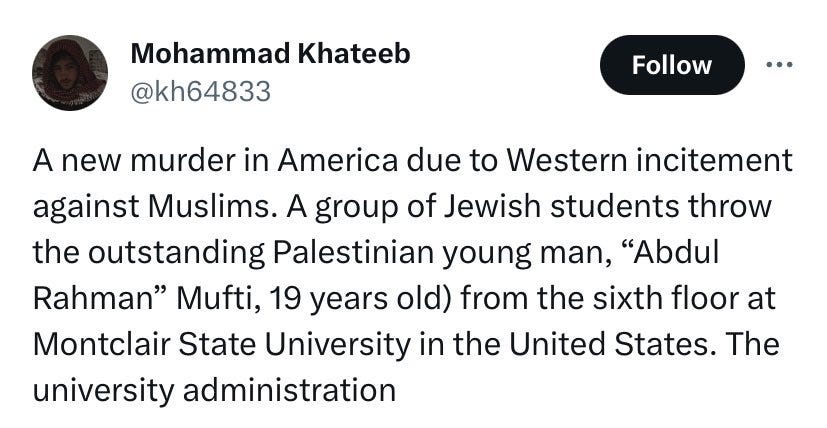 At a May 2022 rally in Brussels, EU Samidoun coordinator Mohammed Khatib/Khateeb said "Defeating Israel means defeating the US. Defeating Israel means defeating Canada. Defeating Israel means defeating this colonial (EU] institution. We will not accept any more, as Palestinians, this rhetoric of 'two-state solution,' as a way, to support Palestine. Only one free Palestine from the river to the sea."
At an October 2022 rally in New York, the NYC coordinator of Samidoun, Laila Boutros, said "Al Hakim [founder George Habash's alias] was speaking of the brave Palestinian resistance in Palestine…We all have a right and a duty to resist the murderous Zionist entity and all institutions that support and benefit from1 the Zionist entity's genocide of the Palestinian people." Ok, so, about that. The word, "resistance"serves as a euphemism for violent terrorist uprising. "Institutions supporting and benefitting from Zionism" refers to the western world — Europe and North America.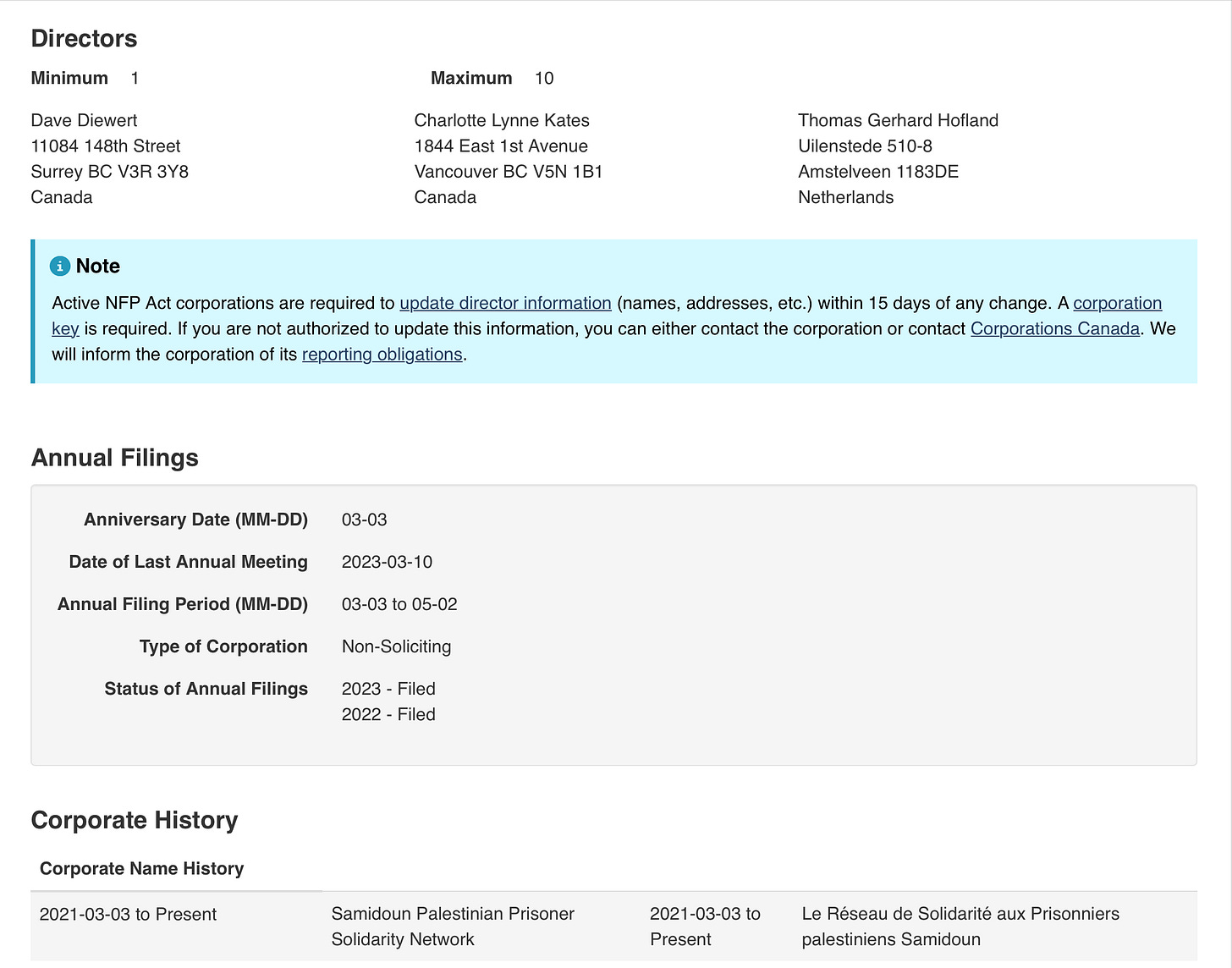 So, let's put that together and see what we got. Samidoun Palestinian Prisoner Solidarity Network advocates for Palestinian terrorists who seek the destruction of the state of Israel, Europe, Canada, and the United States, as well as the extermination of Jews. In 2021, the same year Israel gave it a designation as a terrorist entity, Canada Revenue Agency gave Samidoun a federal nonprofit designation. Two of the three Samidoun directors live in British Columbia, Canada. Below, I will introduce you briefly to the Canadian directors. A quick check reveals the third director as a Dutch anti-semitic activist who regularly trolls Israeli diplomats and holds anti-israeli protests.
Dave Diewart, a long time Vancouver-based social justice and poverty advocate has done a bunch of social activist work that doesn't seem particularly exciting or out of the ordinary. He appears as a signatory on a Canadian Palestinian Association blog post and open letter that calls for and end to the "smear campaign against Palestinian advocacy." Dave tweeted out "the March for Return and Liberation, Saturday October 29th at NOON," which took place at Broadway and Commercial in Vancouver last fall. You can see the genocidal message on the banner in the tweet. From the river to the sea, Palestine will be free means that when every Jew from the River Jordan to the Mediterranean Sea has been exterminated Palestine will be free for Arabs to rule. Charlotte Kate, the international coordinator for Samidoun has a husband named Khalid Bakarat. Before I tell you about Charlotte, let's talk about her hubby.
Khalid seems like a colourful bloke. He is banned from the European Union because of his ties to the Popular Front for the Liberation of Palestine (PFLP). The PFLP appears on the Criminal Code's terror list. Douglas Todd wrote about Khalid Barakat here. Terry Glavin has written about Khalid extensively. Here. Also here. You might find some more about Khalid on Terry's Substack. Let me tell you more about Charlotte and Samidoun now. In December Charlotte posted graphic that read "Freedom for Ahmad Sa'adat. Free All Palestinian Prisoners. Free Palestine." It featured the illustrated likeness of Abu Ghassan, "a Palestinian militant and Secretary-General of the Popular Front for the Liberation of Palestine (PFLP), a Marxist–Leninist Palestinian nationalist organisation," according to Wikipedia and verified.
Charlotte Kates graduated from Rutgers School of Law in 2006. The State of New York suspended her law license for administrative reasons in 2013. Charlotte coordinates the US National Lawyers Guild's International Committee and she organizes with the Palestine Right to Return Coalition. According to the European Parliament, Charlotte has travelled to Palestine on multiple occasions with international delegations, which have included attending the Israeli military trial of imprisoned Palestinian terrorist Ahmad Sa'adat aka Abu Ghassan and meeting with terrorists and their families. She writes about Palestine and Palestinian terrorists for Electronic Intifada, Mondoweiss, Jadaliyya and Jacobin Magazine.
A 2003 NYT piece on Charlotte, then a law school student and activist, describes her eureka moment in the car as a child when a utopian vision of a communist society in the Soviet Union leapt off the pages and inspired her to be a revolutionary. Her small dorm room at Rutgers, which she shares with three other first-year law students, is decorated with the requisite picture of Che Guevara, a hero of the Cuban revolution, along with a poster of [Ali Hassan]2 Salameh, a slain radical Palestinian leader, writes Chris Hedges. Charlotte defends the Palestinian advocacy mantra From the River to the Sea We Will Be Free, saying it's a call for all land between the Jordanian River and the Mediterranean to be returned to the Palestinians. Hedges also writes Ms. Kates will not, for instance, condemn suicide bombings, saying ''it is not our place in the United States to dictate the tactics Palestinian groups use in the liberation struggle.
Counterterrorism think tanks across the west have devoted increasing resources to tracking and monitoring the growing civilian layer that the PFLP has cultivated as proxies to carry out its work in the west. In the graphic below you can see the civilian web of nonprofits that the PFLP has spun around itself in order to further its anti Jewish and anti western propaganda reach in the Canada, Europe, and North America. Remember that many Nazis whom Goebbels himself trained in his own German Ministry of Information did find refuge in Nasser's Egypt, which had a massive influence on Arab thought in the Middle East.
Many Egyptians had pictures of Hitler on their wall, Arabic-translated copies of Mein Kempf3 sold widely. Goebbelsianism fused itself with Muslim Brotherhood and Wahhabism-style Islamism to create modern day Islamist terrorism. The anti-zionist movement is not an innocent movement to stop evangelical Christians hijacking the middle east for their Book of Revelations end of times fantasy narrative. The anti-zionist movement is a dog whistle for Jew hatred and the destruction of western style-democracy. Remember there is one Jewish secular nation on the planet, there are many secular Christian nations across the west, there are something like 50 Muslim countries, many of them terrorist or terrorist supporting. Yet Israel somehow becomes the evil oppressor? Do you see the folly of that reasoning? Arabs telling you that Jews are ethnically cleansing them from the Middle East is a ridiculous joke. Ask those Arabs how many Jews left in any Arab or Muslim nation in the M/E — none, there are none. Who's the coloniser, then? Accusations = confessions for narcissists.
One technique Samidoun and other NGO proxies use involves publishing English content that does not reveal their real agenda as expressed in Arabic. For instance, Arabic language descriptions lists Barakat and Kates as members of the PFLP whereas English language descriptions lists them as advocates or co-ordinators for Samidoun, As I track the content these organisations put out, I notice this technique. Other researchers and counter terrorism scholars have written about this duplicity.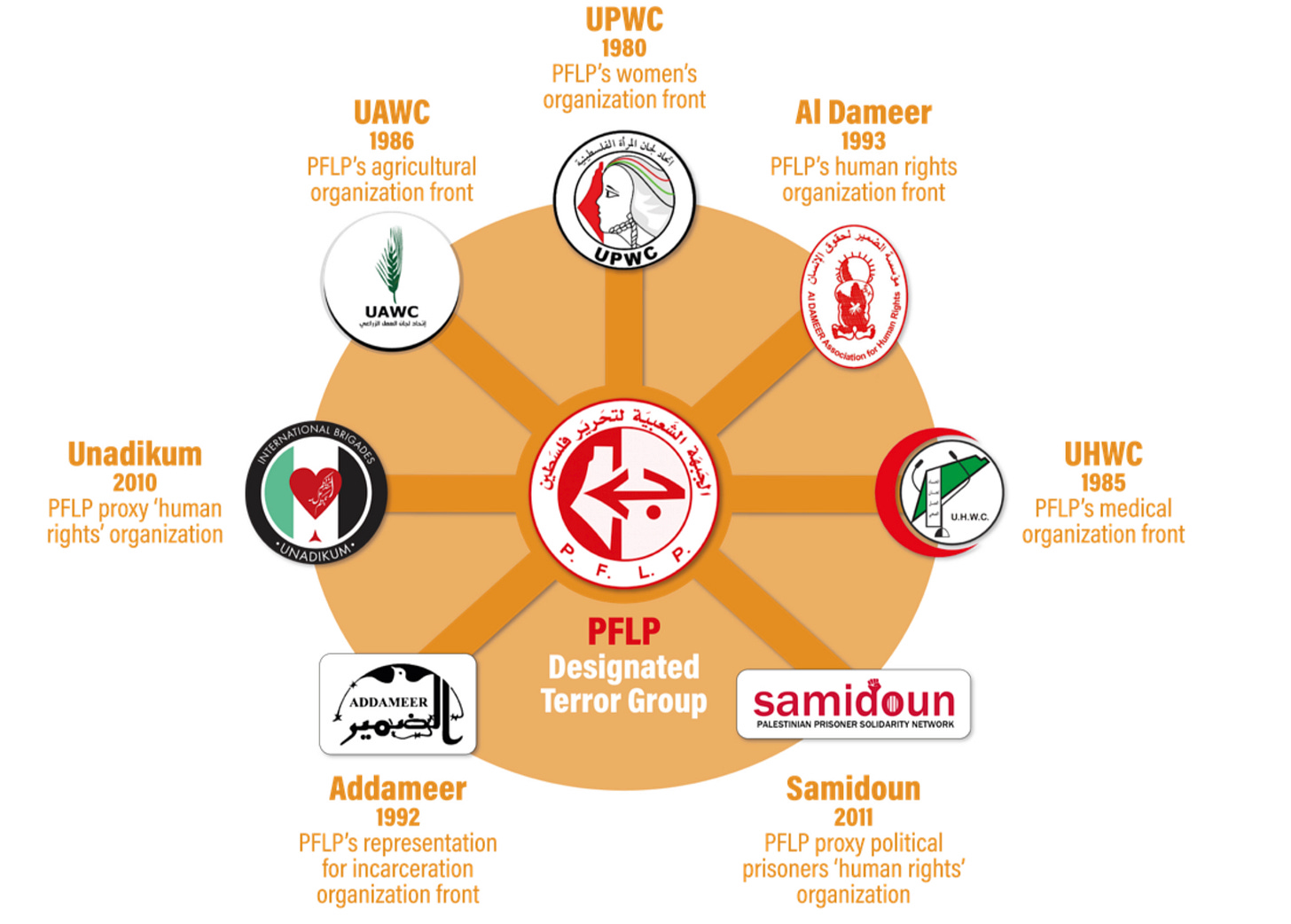 Samidoun has made it onto the terror list in Israel and Germany. France tried to dissolve a member of Samidoun, Collectiff Palestine Vaincra, (CPV) because of its terrorist ties and the Council of State overturned that decision. CPV has a terrorist designation in Israel. You can read the ILF information here, noting that CPV appears to violate France's terrorism and discrimination laws. An Israeli news network reported events that led Germany to ban Samidoun-organised protests in June of this year:
In April, Samidoun garnered widespread media coverage in Germany for organizing an anti-Israel rally in Berlin attended by a crowd of 500 mostly German Muslims, where "Death to the Jews" and "Death to Israel" were chanted.

The Middle East Media Research Institute (MEMRI) documented the antisemitic chants along with "I generate the bloody body!" and "Tel Aviv, the answer will come!" MEMRI wrote: "Protesters openly glorified terrorist violence and praised the military arm of Hamas, the Qassam Brigades, that is responsible for numerous suicide attacks against civilians, rocket attacks, and hostage taking." (I24)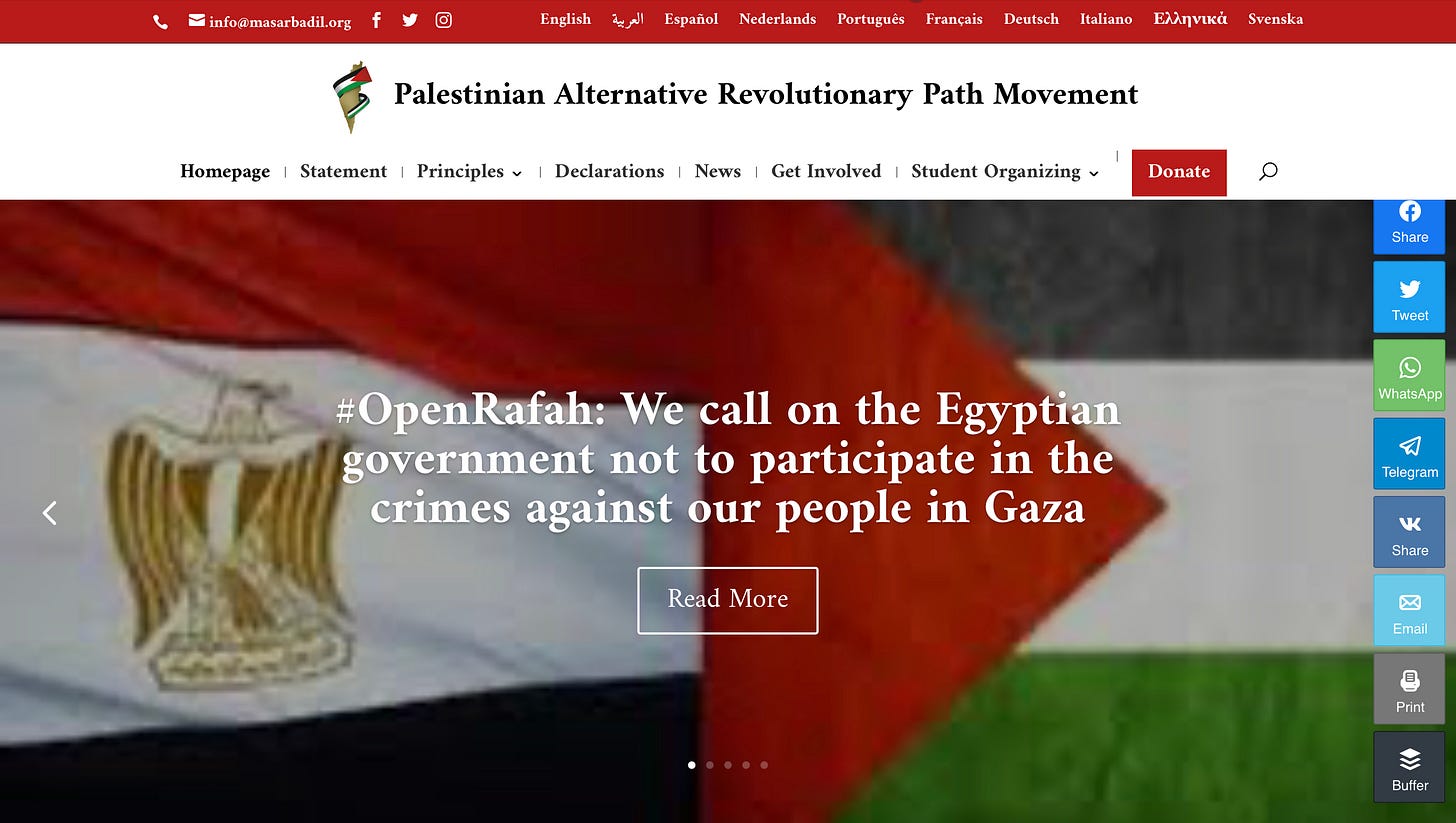 After the Rally in Brussels, which the Samidoun YouTube Channel describes as Mohammed Khatib, Europe coordinator of Samidoun, speaks on behalf of the Masar Badil (Palestinian Alternative Revolutionary Path Movement) at the March for Return and Liberation in Brussels, Belgium, on 29 October 2022, calls grew louder to designate Samidoun as a terrorist organisation in the EU. As the footnote indicates, Masar Badil, the Palestinian Alternative Revolutionary Path Movement, rejects the authority of the Palestinian Authority and calls for a return to violent resistance. The Masar Badil website lists Khaled Barakat as a member of the Executive Committee of the Masar Badil, the Palestinian Alternative Revolutionary Path Movement.
Article 9 of The Palestinian National Charter posted on the Masar Badil website states that armed struggle is the only way to liberate Palestine, and Article 10 states Commando action constitutes the nucleus of the Palestinian popular liberation war. This requires its escalation, comprehensiveness, and the mobilization of all the Palestinian popular and educational efforts and their organization and involvement in the armed Palestinian revolution. It also requires the achieving of unity for the national (watani) struggle among the different groupings of the Palestinian people, and between the Palestinian people and the Arab masses, so as to secure the continuation of the revolution, its escalation, and victory.
Commando actions means armed and violent raids, by the way.
Rima Nijjar of Countercurrents wants to assure the Palestinian people they are not alone, though. Based in the West Bank, (that's right not in Canada, in Palestinian territory in the Middle East) Rima writes the following.
So, when B'nai Brith Canada & CIJA and their ilk go on twitter to spew their hasbara and demonize Palestinian resistance — and specifically Masar Badil and Samidoun Palestinian Prisoner Solidarity Network, and call on the Canadian government to ban them and their activities, it's good to know Palestinians are far from alone. She provides a list of anti-Israel organizations and links thereto.4 (Countercurrents)
In another article, Rima from the West Bank writes that Masar Badil promotes an alternative path of revolutionary resistance meant to isolate the Zionist state. She writes of glory to martyrs and freedom to prisoners. Reader, translated for the average human who does not belong to the homicidal cult of Islamist malignant narcissism this means glory to death and freedom to terrorists. The literature points to the conference held in 2021 in Spain as a key event and turning point. The Middle East Monitor wrote a story about the conference, they referred to Barakat as coordinator of the Masar Badil preparatory committee. So, Barakat is a member of the Popular Front for the Liberation of Palestine (PFLP), a designated terrorist organisation, in addition to Masar Badil.
Terry Glavin wrote about Masar Badil and Khalid Barakat and the Ottawa event that happened earlier this year in his Substack The Real Story.
MEMRI wrote about Khaled Barakat's Masar Badil intifada speech in Ottawa.
Canada-based PFLP senior leader Khaled Barakat spoke at an April 30, 2023 "Return and Liberation March" in Ottawa, Canada, calling upon his audience to salute terrorist organizations in Gaza. He said: "Salute the heroic forces of the Al-Qassam Brigades, Jihad Brigades, Abu Ali Mustafa Brigades, and all of the Palestinian resistance factions."  Barakat continued to call for the "unity of all fronts," including the "resistance" in Lebanon, Yemen, Syria, and Iraq. He led the crowd in chants of: "Long live the Intifada!" "Long live the Palestinian resistance!" Video of Barakat's speech was uploaded to the YouTube account of Masar Badil (Palestinian Alternative Revolutionary Path Movement). It should be noted that Abu Ali Mustafa is the armed wing of the PFLP, which was responsible for launching rockets against Israel and terrorist attacks, such as the murder of 17-year-old Rina Shnerb in 2019. Khaled Barakat is a Masar Badil coordinator, and he has been singled out as a leader of Samidoun, the foreign Branch of the PFLP, which was designated as a terrorist organization by Israel in 2021. (MEMRI, April 2023)
So, what does this mean? It means we have a problem in Canada, reader. It means we have confused cultural relativism and diversity with tolerance for extremism. It means (I shudder to say this) Max Bernier had a point about immigration and a values test. Mad Max remains wrong about most everything else, and he's an emotionally stunted reactive man baby, however he saw the writing on the wall. What else does this mean? It means that a bunch of people in Canada really do cheer and celebrate the massacre of Israelis that happened on October 7th, 2023.
Why should you care, though? Because we have non profits in Canada that promote and glorify the work of criminal terror organisations. We have activists who promote the idea of armed resistance — another woke euphemism for terrorism. You should care because do you want to live in a country where any freak can storm your home and fill you full of bullets because you said or did a thing that made them feel mad or upset or because they decided you are a "settler" and don't belong here? Al-Qassam Brigades carried out the massacres of Israelis — at the Supernova music festival, at the southern kibbutzum in the Israel-Gaza border communities. What happened to Section 319 of the Criminal Code? Why doesn't Canadian law enforcement enforce the law?
The mask has fallen, it seems. Reader, have you noticed how quiet the anti-hate political left wing in Canada has grown in the days since the 10/7 Simchat Torah Massacre happened? Have you noticed the silence of the NoSpaceForHate brigade? Have you noticed how stupid sh1t equated to hate for the left and that actual hate and violence has an excuse when we can call it resistance or DEI training? What if PMJT had focussed half as much energy and money and effort on fighting extremism and rising hatred of Jews and Europeans as he did to his socks and evading accountability for his fcuk-ups?
How many of us simply failed to see the real threat? How many of us in Canada simply didn't understand that terrorists can seem like really nice blokes who pray and don't eat pork or drink alcohol and who speak of justice and peace and can also have secret homicidal and genocidal desires? How many of us didn't understand that terrorists can seem like really nice people you might even like and think are pious and charitable because you see them doing good works constantly? Then one day the social media post shilling for the slain Soleimaini and vilifying the evil occupiers slaps you hard back into reality. Maybe terrorists are nice people when you don't realise they are terrorists? Maybe in Canada our societal innocence makes us a bit thick?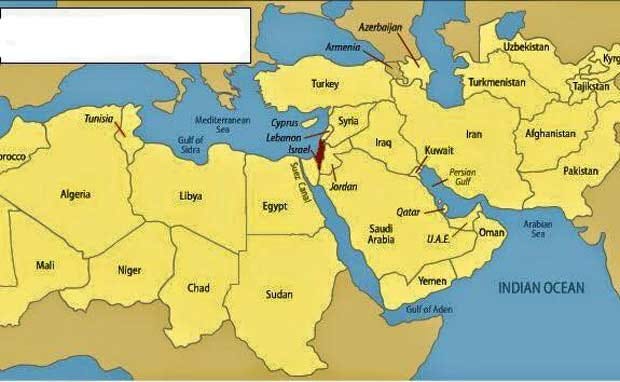 I feel like I have had my eyelids ripped away and cannot escape the ugliness of extremism that has bled into everything. The Grand Ayatollah Sistani of Iraq issued a fatwa calling the world to rise up and force an end to the occupation. October 17th marked 22nd anniversary of the assassination of Israeli Tourism Minister Rehavam Ze'evi by the PFLP. Watching the horde of angry Hamas supporters in the streets of Toronto, and seeing the throngs of raging Arabs in Jordan and Iraq, I wonder what the future holds.
For a start I think Canada must begin to follow Israel's lead and take a tough stand against terrorism and its propaganda web of nonprofits. I have enough information and ongoing access to open source intelligence (OSINT) to make this a focus of my writing here and my content on Twitter for the foreseeable future. Stay tuned. In the meantime, be wise to the fact that the propaganda machine has shifted into high gear, that the Ayatollah has ties to much of the extremism rising right now around Palestinian activism.
At this time you must presume that any pro Palestinian cause has ties to armed resistance, i.e. terrorism. Free Palestine means what we saw on October 7th, 2023 — that's what they mean by freedom. It's not a joke. It's not a drill. We are all in danger, The Liberals and the NDP made a grave mistake stopping the private member's bill to designate the IRGC a terrorist group — that must happen immediately. Please write you MP and urge them to make this a priority. In the coming days I will have more information about why this stuff matters so much to our freedom, to the safety of our children, and to democracy in Canada.
Adventures of Bad Hijabi is a reader-supported publication. This stuff doesn't research and write itself. Please support my work with a paid subscription!
1
Do people in the west realise that this means Europe and Canada and USA? Because that's what this means — it means Islamists want to exterminate all of us. That's not hyperbole, it's fact. It's out in the open, it has been all along.
2
The NYT article says Nabil and there is no such slain Palestinian extremist by that name famous enough to have his own poster. However there is an Ali Hassan and the Jewish Virtual Library says the following about him.
Ali Hassan Salameh was the chief of operations for the Palestinian terrorist group Black September and one of the architects of the Munich Olmypics Massacre.
Salameh was born in the Palestinian town of Qula during the British mandate, near the city of Jaffa, to a wealthy family in 1940. His father,  Hassan Salameh, was a commander who was killed in battle fighting against Israel in the 1948 War. Salameh was educated in Germany and is thought to have received his military training in Cairo and Moscow.
He served as the secretary chief of Fatah. After the Munich Massacre, he was hunted by the Israeli Mossad during Operation Wrath of God.
According to several sources, Salameh served as a secret contact between the Palestine Liberation Organisation (PLO) and the Central Intelligence Agency (CIA) from 1970 until his death, agreeing not to assassinate U.S. citizens in exchange for financial and political support.
3
Mein Kempf means "my struggle", note again that word "struggle" and the severe delusion of persecution/victimhood that drives the extreme thinking and behaviour