Discover more from Adventures of Bad Hijabi
Oh hai. I'm disimpacting my brain.
Never Again is Now
did we ever stop hunting nazis?
The Nazis have returned. This time they came under the cover of Islamofascism.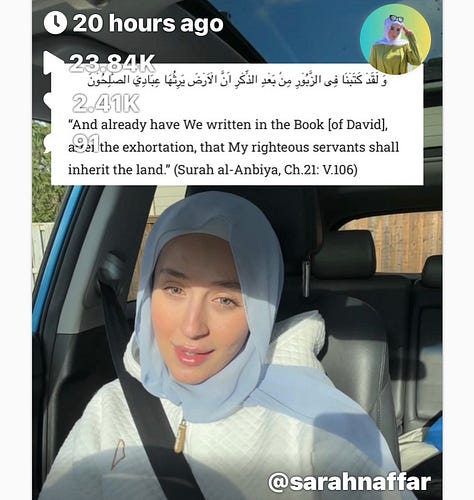 Maybe in the post-WW2 period America should have given a bit more attention to Nazi hunting instead of wank over a stupid rocket space programme, huh? Because, guess where many of those Nazis ended up? I mean aside from South America. Any guesses? Reader, if you guessed Egypt and Judea/Samaria then you get the prize! You might better know Judea/Samaria as The West Bank. Remembered that the present day Gaza strip existed as part of Egypt in 1948 when Israel became a nation.
Anyway, America got bored of catching Nazis and putting them on trial blah blah blah due process is boring can't we blow sh1t up and go to the moon Uncle Sam, as the world rebuilt itself inside the ruins that Jew hatred left. America decided building space rockets, and not fighting Jew hatred, should matter most. America gave up on humanity and let the Nazis escape without accounting for their war crimes1. Only a handful of Nazis went to trial and received sentences. Most who participated in the Shoah and sent Jews to their starvation, torture, rape, beatings, enslavement, and extermination got away and lived their best lives with little regret or remorse. Jews, as usual, found themselves on their own to figure their own sh1t out.
Jewish Holocaust survivors and their supporters created their own organizations and infrastructure to track and hunt Nazis because the world abandoned Jews again. When Israel had caught Adolph Eichmann, the Americans felt uncomfortable. Yeah, I don't doubt America felt uncomfortable, having known for two years prior to Mossad's capture that Argentina harboured Eichmann. For those who don't know, Eichmann played a major role in the logistical arrangements of The Final Solution, which killed over 6 million Jews, decimating the Jewish population of Europe. Yes, America knew Eichmann's location and failed to act on that information. Knowing that, do you feel confident in America's supposed dedication to eradicating Hamas?
North America seems to have gone deliberately mind-numbed to the threat of religious extremism marrying Nazi-level Jew hatred and giving birth to social justice aka Woko Haram. You'll recall that one SS Waffen Nazi even got a standing ovation in the Canadian House of Commons not that long ago. So, Nazis got away with their war crimes and crimes against humanity. Nazis found a lovely welcome in South American countries like Brazil and Argentina and Canada too, apparently. Nazis also found a haven in Nasser's Egypt, where people revered Hitler long after the fall of The Third Reich. Mein Kempf remains a big hit in Turkish and Arabic, finding homes on Turkish and Palestinian bookshelves.
The seeds planted during the reign of the Third Reich grew throughout the Jihadist world. "In 1969," for example, "the PLO recruited two former Nazi instructors, Erich Altern, a leader of the Gestapo's Jewish affairs section, and Willy Berner, who was an SS officer in the Mauthausen extermination camp. Another former Nazi, Johann Schuller, was found supplying arms to Fatah." Embracing Hitler's ideology, Dr. Yahya al-Rakhawi wrote in the Egyptian newspaper Al-Ahrar on 19 July 1982: "That great man Hitler, may God have mercy on him,… who out of compassion for humanity, tried to exterminate every Jew." Egyptian scholar Ahmad Ragab expressed the one reservation that the Arab Muslims seem to have about Hitler: "Our thanks go to the late Hitler, who wrought, in advance, the vengeance of the Palestinians upon the most despicable villains on the face of the earth. However, we rebuke Hitler for the fact that the vengeance was insufficient." (Patterson 2016)
We can now see the result of deciding to let Nazis infiltrated the Middle East in the social media content of young people like Sarah Elnaffar and Nadira Ali (see graphics above). Scroll through Nadira's social media to see her express support for the Iranian Regime, and also for Hamas. Visit Sarah Elnaffar's YouTube to see several short videos she has created to express her hatred for Jews and her denial of their right to self determination. If you substitute the word Jew for Zionist in her "Extinction of Palestine" video you could swear that's Hitler with a modern North American accent speaking to you through the camera. Have a listen to Sarah's video — doesn't The Zionist playbook sound familiar? From time immemorial, however, the Jews have known better than any others how falsehood and calumny can be exploited, wrote another Jew hater almost 100 years ago in a book about struggle he called Mein Kempf. Sarah sounds a lot like an excerpt from Mein Kempf, doesn't she?
Look, if the shoe fits and all.
Canada, we have a problem. It's time we stood up to the hatred. It's time we pushed back. It's time we took our country back from the baying mob of malignant narcissists worshipping psychotic mob-like terrorists as heroic resistance fighters.
Adventures of Bad Hijabi is a reader-supported publication. I track extremism in Canada, with a particular focus on antisemitism and child indoctrination. Consider upgrading to paid subscriber to help me finish the LupronGate report, which is very near completion!
1
In this context the hyperbolic military imperialist war on terror of the Bush era seems understandable. Projected guilt often looks like over correction.