Discover more from Adventures of Bad Hijabi
Oh hai. I'm disimpacting my brain.
It's Been Awhile
Because Grief Is a Non-Linear Ride to Hell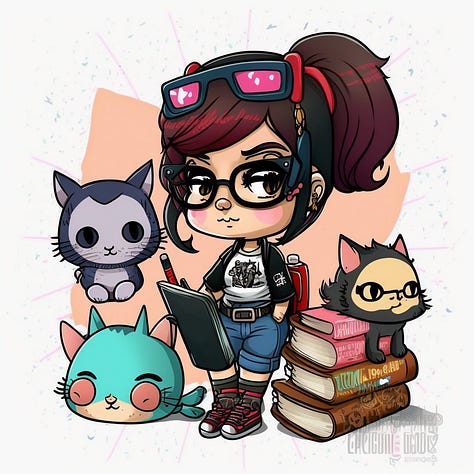 Last Day of the Month :: Feel Like Sh1t Day
February sucks because the end of the month comes faster than any other month. The end of the month is when the feudal reality of Vancouver bites me in the ass and I spend a day feeling like an inadequate failure because housing charges in the most expensive Canadian city on a disability pension is it's own special treat no one wants to know about. Woke Vancouver and muh inclusion except no you can't pay your housing charges AND eat, choose b1tch. So fun with selling my soul to the devil to collect money for housing charge and that's an ego smashing exercise. Then after trudging through the snow and chill come home to run a bath and there is brown sediment water coming out of my tap so I am bathing in swamp water in this outrageously expensive below market value co-op flat I live in. Okay so it's because it snowed, or because of a fire hose or construction or I don't fcuking know why I had to bath in dugout water. I thought I lived in the first world, where we had the largest freshwater supply in the world and world class filtration but okay I'm unreasonable I guess.
But we are living the high life in one of the best cities in the world to live ahahahahaha. Yes, the Woke Feudal Vancouver is such a fukkin treat. Sarcasm alert. Yeah, this would be where some sh1tbag gaslights me with stories of tragedy from the other side of the world or wherever, as if the suffering of others who are deemed worst off by appearances than me somehow negates my trials. Yes you sound like dad's younger siblings (in Guyana) when I was a kid who thought that we had bags of money and gobs of gold falling from the trees (exaggerating a bit but not really) when he was a sole income earner and mum was taking university night courses one at a time. Yeah, because only elsewhere suffering matters. Can you seriously fcuk off with that muppetry? It annoys me because it insults my intelligence.
Insults to my intelligence and wasting my time and not delivering on your commitment are the three things that will piss me off. These are also the most common ways people behave—unapologetically so. Did I mention I'm paying for my coaching course in monthly instalments and have been since last May? Yes, I am two payments away from paying this training that I have paid on a disability income. So, actually when I stop measuring my progress against society's stupid horsesh1t standard, then I don't look like a failure at all, I look like someone who is swimming upstream against a system and society.
When you have not devoted 2 decades of the peak of your life to a weak and cowardly man and to raising his progeny and all the heartache therein, when you have not burned yourself at the stake of self loathing for that last scrap of marriage validation from a man who raped you in your sleep repeatedly, well, you don't get to tell me a fukkin thing about how I should not be so vitriolic or angry about sh1t. Do you know that I feel angry at the nursing profession and system for the sexist way he was treated by his nursing colleagues and angry at him for the way he treated me a nd gave up on himself? Both.
Everything was against us, including ourselves in the end. Fcuk yeah I feel angry about that. This forced positivity is emotionally abusive and fcuking horsesh1t you can keep it. Grief is cumulative and non linear, assholes. Also living a low income life simply makes everything that much harder. Also, stop telling me to get therapy, muppets, what therapy? With what money? Where? You need to pull your head from your ass, there is nothing. If you aren't strong then you don't make it. I'm strong, I made it. With nothing and I made it. Rebuilding life from scratch is a b1tch you don't get to judge me if you haven't walked that mile.
So I have messy feelings and I think my husband was a weak piece of garbage who never could man up and fight for this life we had. And I think how he was a good dad when it counted, when they were little and growing. And I think how his nursing colleagues treated him was unfair. I wrestle with that a lot.
Angels Symbolise the Unmoving Will of God
Yes, I am Jacob wrestling with that fcuking angel. Angels do God's will without question + without choice. Any time an angel appears in a story like this, it is a symbol of God's will. Angels do not choose like hoomans do. Our special nature among creation lies in our capacity to reason + choose.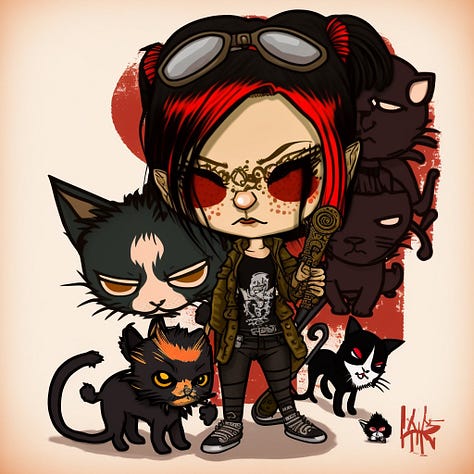 The angel is the symbol of the unmoving will of God, which we each wrestle with in our egoistic humanity. I relate to Jacob because he wrestled with a thing cast into the darkness. Wrestling with angels in the darkness alone—that's my jam baby. Maybe that was how God crafted me to be for some reasons I don't grasp. Well, maybe God is a Cosmic Chess Champion, like the Gary Kasparov of Supernal Being and so, I am not going to question Kasparov's game theory strategy.
Yes, God is the ultimate programmer and game theorist turned constructor + creator.
I'm so sick of the world of hoomans with all the fcuking answers about everything they don't know. Don't tell me about the universal health care system that says it cares, we aren't having that discussion. That's the care system that killed my mother with its care, so harsh nah to that. But everyone has the answers to sh1t they do not know and cannot imagine, right?
The joke is on every one of us who raised kids is how I feel today right now. I want to say I question why I did it. Not sorry, I believe mothers have those days and we are gaslighting each other when we say we do not. I am having a contracted day when I question everything, including motherhood, including existence. I'm only honest enough to admit what others struggle with in silence. Maybe that's why people like my writing, because I have always had a knack for putting the vulnerable stuff into words that people emotionally connect with in their gut and heart.
I did not get compensated for giving up my livelihood to raise children. I never got back the career track I gave up and the one I tried to do (nursing) burned me out. Just being honest. I feel ripped off and you can judge me any way you want for that. Like I said, being honest. Not responsible for the version of me that exists in your head when you've judged me for my uncomfortable honesty.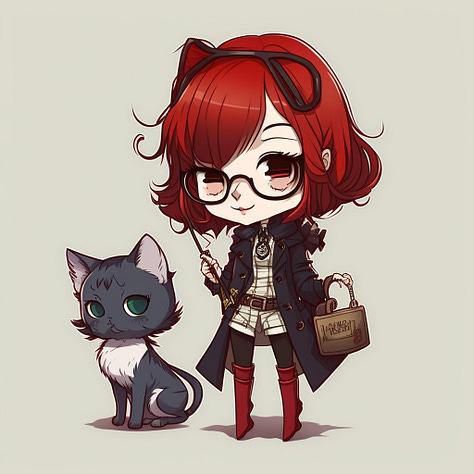 ---
Contractions Are How We Got Here
What if we could think of difficult times like the contractions that are needed to give birth? Imagine we are always giving birth to our lives. The heart contracts to feed the body, the womb contracts to expel the child. We are all here because of painful contractions.
Contractions happen to expel material that's no longer needed, that needs to travel somewhere else in the body, or needs to leave the body altogether.
If valves did not close systole would not happen and we would feel unwell. If valves did not open diastole would not happen and we would feel unwell. Balance. Homeostasis. Nature knows what we do not because Allah knows and we do not. He programmed the universe. A program executes itself without the programmer intervening to change code on the spot. The code team does not come into my home to fcuk with the code of the apps I most rely on. Rarely they go down or a glitch or maintenance. However the program has been coded in development to function.
The Qur'an and my Qur'anic mentor have taught me that God has programmed the universe similarly. The seasons return without needing any assistance. Perennial plants return without any assistance. The monarchs return. The salmon return. A fetus knows when 39 weeks has passed. God provides for His creation. Tawhid in Sufism means God is the singular source of all, He is everywhere and nowhere and because of Him, because He made us, everything is me + I am everything He made us. Yet though we share the same source we are very much individual creatures, each one crafted with purpose separate + unique from any other.
Think of the quantifiable force your mother's uterus had to endure for your birth. Think of the quantifiable force your heart has to endure to perfuse your body. Think of the quantifiable force that your lungs have to endure for you to have oxygen to live your life. All this happens without your thought or knowledge unless things are off balance enough for you to notice.
So what if a contracted or miserable or depressive period is simply systole? What if is is expiration/exhalation? What if it is peristalsis? What if it is a labour pain? All of those things are necessary for us to live.
So how do you wrangle the inner asshole? Or— how do you wrangle one who is possessed by a refractory inner asshole moment?
Rage Doula :: Giving Birth to Rage
I feel like I could call myself a Rage Doula. Someone who struggles with trauma and depression called me his anger translator. Because I express intelligently sentiment and ideation others feel viscerally and can't verbalized or articulate like I can. So I guess I can leverage this Inner Asshole—rather than try to gag her—by helping others. The most intelligently suffering individuals have found comfort in my written rage. I will not begrudge that, whatever else is going on.
Anyway, this is my advice on how to wrangle the raging and contracted Inner Asshole or for those who want to hold space for or cheer on1 another in the throes of Inner Assoleism.
1. Keep going. Feel the messy whack feelings.
2. Question GENTLY the asshole inside your head, tho do let her rant—when you try to silence her she gets louder and her toxic message is further embedded into your nervous system and you end up arguing with a fixed delusion you have created.
3. Listen and try not to judge her, she is hurting and she doesn't need your sanctimonious muppet dumb-assery.
3a. To a certain extent deep anger can seem like a fixed delusion, meaning clinically you do not confront that head on, you deftly sidestep it. Sometimes you can skillfully disrupt it with humour and sarcasm. You know MASH style humour. Provide social safety in a quiet low key distracting way when needed. Like a valve releasing pressure.
4. She needs you to hold space. Not judge. Not advise. Not shrink. Not fix. Hold space. And distract with sarcasm maybe. To process.
4a. She needs other nervous systems —she needs cardiac resonance to comfort herself. Animals are a comfort for this reason, cardiac resonance. This isn't about your ridiculous colonial DSM labels and projections. This is about seeking physiologic comfort and balance.
5. She needs you to remind her she is normal + others feel this way too.
6. Remember that a woman in labour who is fully dilated and ready to advance to hard labour is a complete dragon and will cuss you out and rage and rant — giving birth is hard fukkin work and you will see a formidable creature and she will say sh1t you might not expect — she is busy doing a thing, mustering all the strength of God and the universe to bring forth what is called. A baby's head has to pass through a 10 cm orifice, so pardon the mum if she hurts your feelz with harsh words.
Giving birth to rage and transformation is like that—be a rage doula.
I created the Text Messages From the Asshole Inside My Head exercise to have a way of receiving the nasty messages from my Inner Asshole. I ended up with 100 text messages after doing this exercise over a period of several days.
The exercise is to summarize in 54 characters or less the text message from the asshole inside your head.

Then write it down. Don't judge.

I created a template in Canva because I like graphic design and visuals so my stuff often includes those things. You can adapt this to work for the way your like to thing and process. Maybe you want to do spoken word snippets. Or art collage or ai art with a prompt. Or journalling. I like the 54 character limit it keeps my brain sharp and distills the message to a painful point I can try to unpack.

Keep writing it down til the asshole feels heard and quiets down.

It took me around 100 of these text messages, the book is 100 pages. Keep going. Be patient and listen with neutrality and write it down.

Then look at those text messages.

That's your pain.

That's your unmet needs.

That's the part of yourself you cannot accept.

Love yourself because you need you to move ahead.

WHO THE HOLY FCUK CARES WHAT OTHERS THINK, BOO?

God made you in His image for His purpose and you are rocking that sh1t right this minute.

Ask yourself about the text messages from your Inner Asshole—Is it true? Look for evidence.

What's really going on underneath that? Acting out often signals an unmet need.

Adulting means you get to change that for yourself. I have 100 pages, 100 nasty text messages from the mean grrl in my head. I listened to her without judgement.

Remember there is neurophysiology underlying behaviour. Forget the notion of mental illness and dualism—it will not serve you here, it will clip your wings. Keep your wings, you need them.

Me getting upset at Iris for her whack way of expressing herself to be seen and have needs met fuels that circuit loop. It's a reward circuitry in my brain being triggered—that's the commitment to feeling sh1tty. So I set a time limit. I lean in and I sit with my rage and sadness. Writing helps and I try to write facebook/instagram posts that show readers the process I go through in my psyche when I fall into one of those funks.
Adventures of Bad Hijabi is a reader-supported publication. To support my work, consider becoming a paid subscriber.
So that is my process and that is what I coach— most things distill down to mindset and self-belief. This stuff programmes the emotional reactivity circuitry. We can change that software though — isn't that cool?
When I started doing this I decided I would take the time to understand Iris (my Inner Asshole) and the reason for her vitriol. Once I identified the source and debunked each message of self-hate I could reframe it and we are friends now. Listening to her and not judging her quieted her rage and made her gentle again. She gets prickly and Mama Bear-like when boundaries are getting violated etc and then I listen to her and let her rant and think about what's happening and ask myself what are you going to do about it?
Telling Iris to shush, socially isolating her, making connection + comfort contingent on "good behaviour" — all this serves to drive the rage further inward + intensify it. I have further challenged + overlooked the unmet needs underlying the rage when I push her away.
We are conditioned to do this to the angry in our society. Anger can be fuel to move forward and we tell people to empty their fuel tanks or they cannot drive on our road. Then we berate them when they cause traffic chaos. To use a metaphor to illustrate our collective stupidity and dysfunctionality with anger. To choose to accept rather than reject and suppress anger, to choose to give it a space to express itself—this characterises truly progressive and emotional intelligence and I really think few people have the skill to effectively respond to rage. We end up plunging the burn into hot water, to use another metaphor. Remember that movie Falling Down?
When you see that this rage and vitriol is your wound talking, then you take steps to do wound care. Exudate is the stuff that the wound bed needs to expel in order to create conditions that promote new growth. If you could think of psychic wounds like physical wounds, then you could apply the same care principles, in abstraction. Lose your DSM labels and dualistic paradigm.
I think this stuff is connected to extremism and hatred—it is the source programming for that behaviour which we need to address at the level of neurophysiology rather than dualistic constructs.
Descartes was wrong—there is no mind-body split. So, there is no mental as such—this is a colonial term. This is a construct created by Christian culture and imposed on the world. It is a false and harmful construct. You cannot promote nervous system regulation and polyvagal theory type stuff and then out of the other side of your mouth talk about mental illness. PICK ONE. There is only physical. Anything else is an ideological projection designed to promote a course of treatment not necessarily in the individual's best interest. Mental illness was created to punish the psychologically and emotionally suffering. Nothing more.
So, shut the fcuk up about this dualistic horsesh1t that scapegoats people with dishonest narratives and puts them in a box that harms them forever and isolates them and disempowers them and takes their intrinsic self correcting capacity away and rots their brain and takes their ability to speak away. Because that does not serve the suffering, it serves the morally superior saviour drunk on their own vision of morality. It is self-defeating and a form of spiritual bypass to embrace the mental illness industry and cult to try to help yourself. Think about who are the financial + social beneficiaries of such a system. Not the suffering.
Cults cannot help you heal. Reality can.
I didn't realise I had so much to say. I think that's enough for today. You can support my work with a paid subscription. I coach cognitive distortions and the inner asshole—so compulsive information seeking, compulsive inner critic messages you cannot shut off, people pleasing, emotional reactivity, making friends with yourself, grief, menopause. Inquire if you are interested in that or know someone who is.
1
I mean encourage expression of rage in a constructive manner not toxic positivity or social punishment