Discover more from Adventures of Bad Hijabi
Oh hai. I'm disimpacting my brain.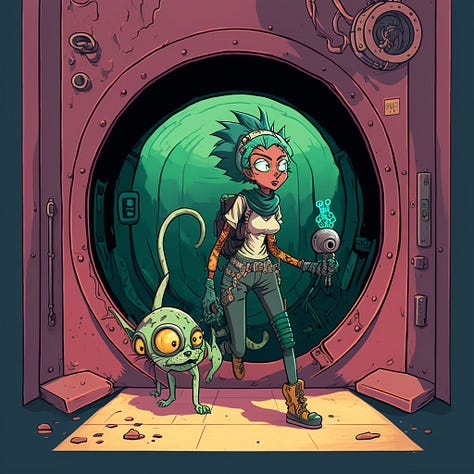 People come to my country to live in it's free society—Edi Amin's refugees, Vietnam, USSR, Ukraine, Ireland, Eastern Bloc, Serbia, etc etc—Canada has welcomed waves of refugees. Freedom comes at the cost of responsibility. Those of us with more freedom have a responsibility to those living in regions of the world where individual freedoms don't exist, or exist in fragility. I can go outside with my hair uncovered and fear no consequences, and certainly not fear for my physical safety or my life.
Women in Iran enjoy no such freedom, as we have seen. In fact, the regime felt so emboldened as to send an IRGC hit team to America to try to assassinate Masih Alinejad.
Rafat Amirov, Polad Omarov and Khalid Mehdiyev were charged with murder-for-hire and money laundering for their role in the thwarted Tehran-backed plot, the Department of Justice said in a statement.

"The victim publicized [the] Iranian government's human rights abuses, discriminatory treatment of women, suppression of democratic participation and expression and use of arbitrary imprisonment, torture and execution," Garland said.1
I have known the experience of living with a violent man who wanted to kill me. I have had a man's hand around my throat, squeezing. Twice. I wish that on no one. Muslims live in a fantasy world here in the west—we sit here in our complacency and we whinge about how so-and-so looked at me funny because of my headscarf wah wah when women are dying for this piece of fabric we decide to call freedom. We are so full of ourselves—sitting here with an Islamophobia representative spewing anti-Jewish rhetoric and pointing the finger at Québécers as racist and calling Canada a Judeo-Christian narrative.
The Iranian Regime killed over 400 people in protests against the regime, 63 were minors. Do those Muslims matter to the Islamophobia brigade, or are we only concerned about the child terrorists who are killed by the IDF? Does Amira care about these Muslim children? Because Islamist extremism killed them, not whypipo. So that question needs an answer or more Muslims will die.
We invoke dramatics about Christchurch, to the point of the ridiculous Muslim celebrity grift over it—we almost glorify our victimhood status, I find it weird. Then we say nothing about the suicide bomber who killed 61 and injured 140 in Peshwar but we are outraged that the IDF took out a terrorist cell in Jenin. Do we really care about hatred toward Muslim people? Or do we only care about hating the west and particularly francophone people, whom we are told to think of as racist. Abu Raja, a resident of the an-Nada quarter in Gaza asks, What kind of resistance is this that occupies homes of innocent civilians and sets up its rockets near the homes of innocence people, so children and women will be killed afterward? Good question.
Does this Muslim life in Gaza matter to Amira and her Islamophobia brigade? Does the life of the Muslim shopkeeper in Jenin who spoke out against terrorists and had his shop attacked—does he matter? Did Jamal Khashogghi matter? Which Muslims matter? Only western ones? When does the hate-based murder of a Muslim matter? Only when the killed fits the narrative?
The biggest threat to Muslims worldwide is Radical Islam and the hatred + terror it creates. Who is going to address that Islamophobia? Also, can I ask what is going through the terrorist mind who thinks I'm going to kill this person God created to please God. No mother would embrace you for killing her child—so why are terrorists going around killing the children of their Beloved, of their God? Look, I don't believe you love God or His creation when you are okay with this terror and death being waged in His name for nothing purposeful.
The difference between a culture that glorified terror and one that works hard to heal is education. —Fadi Dekidek, Irsaeli Muslim paramedic
Adventures of Bad Hijabi is a reader-supported publication. To receive new posts and support my work, consider becoming a free or paid subscriber.