Discover more from Adventures of Bad Hijabi
Oh hai. I'm disimpacting my brain.
Cognitive Distortions & Activism
inmates are running the asylum
I'm going through my drafts and reviving pieces that seem relevant whilst this TAP AbbVie Lupron story brews. Here's another snack for you.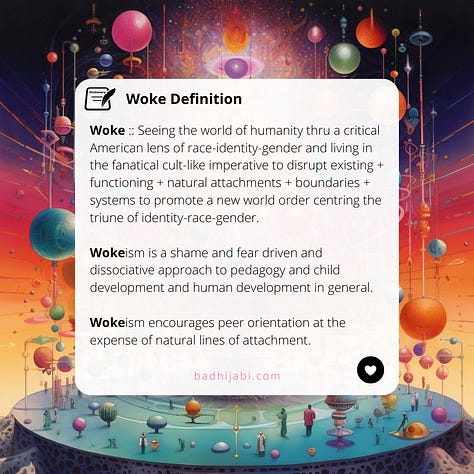 My mum died on May 11th, 2022 and everything seemed really weird afterwards. Stuff that once mattered immensely seemed stupid and trivial on re-inspection. Death always gives me fresh eyes. Obviously my mother's death had a profound impact on the way I see and respond to the world—more than any other major loss I've endured. Including the loss of my youngest son. You cannot validly compare types of grief though, not really, it kinda makes no sense. Present pain will seem more severe than past pain. Anyway. When a parent dies you get the rest of them which they held back from you—you get it gradually, like a slow trickle of a spring or some kind of melting run-off. You see the things about them their physical existence blocked you from seeing and witnessing. It's bittersweet because you know you could not achieve that closeness to them while they lived—the parent-child relationship precludes it from ever happening. There are things we keep from our children. We do not fully see our parents as humans, we strip them of their humanity in order to live inside their lives. It is the human condition.
Remember how Anne Rice wrote about vampires and how the mind connection between maker and fledging had a block? This is how I felt after mum died, like a wall crumbled and everything that was her could flood into me as I grieved for her. This I felt as a comfort, like she did when I was a very young girl and I was ill, she would wrap herself around me and fill the areas around me with her love — so much love she had to give because of that displaced love she had for my sisters. Mum is everywhere now, it is the most enduring gift love could ever give me. Grieving for my mother has provided me with an intense and often overpowering perception of everything — like when you are in a dark space and someone flicks on the lights. Like that.
Adventures with Bad Hijabi is a reader-supported publication. To support my work, consider becoming paid subscriber.
I have written before about the cognitive distortions promoted as activism + human rights + fighting oppression + enhancing inclusivity. I recently discovered the word pathocratic and it describes the current socio-political phenomenon quite well, so I will use that word.
What I notice about the current political climate and discourse:
hypocrisy and selective outrage rule the discourse — why?

those in need of therapy seem to inevitably turn to non profits and activism to act out their self loathing, trauma responses, and other subconscious psychological issues — why?

popular culture rewards fragility + reactivity + narcissism + egocentrism — why?

resilience has been assigned by progressives as a trait of bigots + fascists — why?
The number of woke narcissists who made and continue to make Roe v Wade about them blows my mind. A newsletter from a very woke writer with a victimhood mindset wrote all about how the recent SCOTUS leak preceding the ruling triggered her PTSD because she knocked something over in her flat or some such thing when she was upset.
Scores of left-leaning women who support gender orthodoxy and queer theory —or if they don't have never bothered to publicly challenge its blatant homophobia and misogyny—came out of the woodwork to whinge dramatically about the travesty and damage to women's rights of repealing Roe v Wade. Wokes are outraged about the state of reproductive rights in the aftermath of SCOTUS repealing of Roe v Wade, yet they are the same ones who are/have devastatingly eroding reproductive rights by eliminating sex-based rights, by promoting the ridiculous sex work is work narrative, and forcing the narrative that any female who asserts her sex-based boundaries is a nazi bigot.1
Um, ok, America, you do realise female people have no sex-based rights in your country now, that rapists are being put in female prison, and rape shelters have forgotten they exist to serve FEMALE people, not self loathing male people who need to make everything about them?
Reproductive rights for female people do not exist when female people have lost the right to say no to and exclude male people from their spaces and services. If we cannot say no, if we cannot guard our bodies against uncompromising situations with members of the opposite sex, if we cannot even endure incarceration without male people getting into our bidness, then reproductive rights do not exist. Point Blank.
Gender is a linguistics term that tells me whether to put le or la before a noun in French. That's it. Gender is not a human category—a pedophile decided we should use gender to label people. Yes, Dr. John Money was a pedophile who happened to be a sexologist. His work with the Reimer twins revolutionised the sex reassignment industry and the Reimer boys served as guinea pigs and sacrificial lambs—both committed suicide in adulthood after lengthy devastating battles with psychological distress and trauma from the medical experimentation and abuse they endured. Child abuse and destruction of a family are the origin story of gender and look at the Woko Haram who are using that word, spewing all manner of bollocks about how they care.
What's wrong with the word sex? We are sexually reproducing organisms. Sex informs our physiology, down to the cellular level. WHY CAN'T YOU JUST TALK ABOUT SEX? This need to hide from sex is really quite dualistic and that has its origins in Christianity, btw. Sex does matter, it never changes, it's ours for life. Long after we die our remains will tell anyone who comes across them OUR SEX. Those are facts and IDGAF how you feel about them. Sex is humanity, and if you are trying to erase it you are dehumanising. Point Blank.
So, what is my point?
Wokes are destroying reproductive rights just as much as the right-wing evangelicals — there are no reproductive rights for female people who we cannot have any spaces without males! When rape is a thing we must endure in our most private spaces then we have no reproductive freedom.

Wokes are deeply female-hating and quite homophobic — female people are called nazis for wanting spaces that exclude ALL males. Human do not change sex! Boundaries are not bigotry!

Gender as applied to humans began with a pedophile, Dr. John Money—when you use the word gender you are using the concept and ideas of a pedophile, who essentially destroyed a family and whose child abuse victims ended up killing themselves—just be clear about the origin story of gender to describe humans — say what you mean, we are sexual beings not gendered beings. Speak in concrete material terms about human beings. Learn about the human body and human species if you lack the knowledge base to speak about them in concrete material terms — it is your responsibility to know.
1
Also, Ruth Bader Ginsburg warned you all about Roe v Wade repeatedly and progressives chose to ignore her warnings.