Discover more from Adventures of Bad Hijabi
Oh hai. I'm disimpacting my brain.
The Grand Mufti of Jerusalem + the Nazis
a timeline of the father of Palestinian Nationalism up to 1947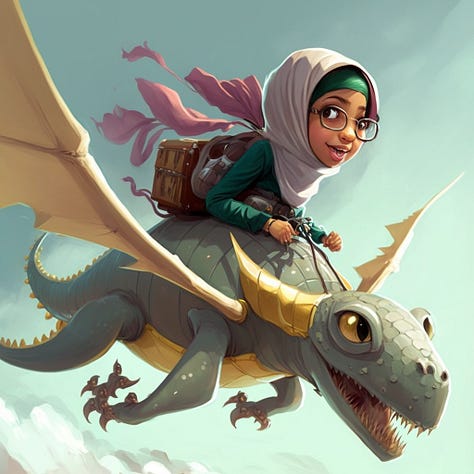 Welcome to 2023! As you can see, I have mounted my dragon and I'm ready for action. I'm here to shine light on truth and facts, in order to combat the barrage of emotionally manipulative and intellectually erosive propaganda that rain down upon us daily. The Muslim world in particular, I find, has a stifling problem with anti-western and anti-Jewish spun propaganda and misinformation peddled as fact. So much present-day information dissemination across the board aims to foment rage, rather than inform and promote understanding and solution-based thinking. So, I want to contribute to the solution by devoting this space to the later, rather than the former. Any asshole can incite outrage and foment revolutionary anger. Intelligent + compassionate + morally courageous hoomans seek understand and want for others this understanding they seek for themselves.
So, before I dig in, here's a bit of advice for 2023–
lean in | eat unapologetically | pull sarcastic faces as needed | donuts | no fear | dance often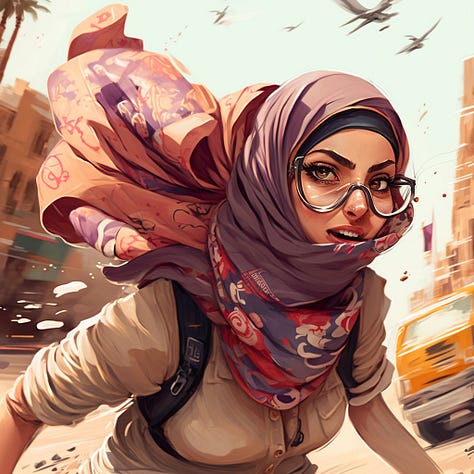 My research has so far revealed that, as far back as 150 years, (so pre-modern German and pre-WW1), the Germans began fomenting Muslim outrage with a view to creating a 20th-century Saladin to help them conquer the British Empire. Max von Oppenheim, the father of modern day jihad, lives on in many ways—many of these early extremists live on because their ideas still find a place in our sociopolitical intellectual world of hyper-masculine d1ckbaggery.
Today I want to tell you about a bloke many westerners may not know —Hajj Amin al-Husayni, the father of Palestinian Nationalism. You can judge his character for yourself, based on his actions listed below. You can see for yourself the desire to prevent Jews from establishing a homeland in the Levant as the source origin for the Palestinian Nationalist movement. The information comes to us from highly capable and prolific scholars and journalists, who combed through multiple government archives and have researched, written and spoken at length about this time period and the geopolitical connections between Nazis and Arab Nationalists.
Here is a timeline of 10 significant highlights from the life and career of Amin al-Husayni which will help you understand present-day political messaging a bit better. The need for the IHRA definition of anti-semitism to stick seems quite clear, in the context that this information provides.
---
Born Mohammed Amin al-Husayni [aka al-Husseini] at Jerusalem in 1897 into a wealthy landowning family in Southern Palestine, near Jerusalem. The al-Husayni clan wielded influence in local Jerusalem politics between 1864 and 1920

Son of the Mufti of Jerusalem | attended Qur'an Ottoman school | attended Catholic French missionary school | studied under Rashid Rida | secular focus, until 1921 when appointed Mufti | only began wearing a religious turban after being Mufti

Appointed Ottoman Artillery Officer in 1914 and assigned to the Forty-Seventh Brigade stationed at Izmir | on leave in Jerusalem when the British captured the city | attended pan-Syrian Conference in 1919 and supported Emir Faisal for King | founded Syrian-based Arab Club al-Nadi al-Arabi, seeking to become the primary influencer of public opinion | became president of al-Nadi al-Arabi

Instigated riots to protest the Balfour Declaration in 1920 at Nabi Musa procession | British withdrew their troops and Jewish police, allowing Arab mob to attack Jews and destroy their properties | intelligence archive documents show that the British administration DID NOT favour Zionism or the formation of a Jewish state in Palestine | Arabist sentiment existed within the British administration | Palestine did not have an Arab connotation to it a century ago, it was the name of the land in the post Ottoman period

Sentenced in absentia to 10 years by a British military court for inciting an Arab mob to riot | fled to Transjordan | the organiser of the Jewish paramilitary in the same riot received a 15-year sentence FYI | the rationale in al-Husayni's mind was to incite sufficient unrest and inject enough chaos into the system such that the British would abandon the idea of creating a Jewish homeland | pardoned by Herbert Samuel, who was pressured by Arabists with the British government, in 1921 | appointed Mufti when he promised to promote peace

3 weeks after being pardoned and appointed Mufti he incited a riot which killed 43 Jews | al-Husayni promoted himself to Grand Mufti and became head of Supreme Muslim council, enabling him to take control of all religious funds throughout Palestine | no Muslim, no Arab could reach influence without approval of al-Husayni | any opposition would find themselves disappeared permanently

Demanded in a letter that Churchill reunite Syria and Transjordan and Palestine | Note he did not ask for "Palestinian" independence he asked for the restoration of the lands of Bilad-al-Shams | France won Syria in 1920 and the struggle for pan-Syria ended with that win | renewed calls for Islamism across the Arab world | the Grand Mufti embarks on a fundraising campaign to renovate the Dome of the Rock and al-aqsa mosque, the dome is refinished in gold with funds raised | this endeavour raised the status of Jerusalem in the minds Muslims and furthered the anti-Zionist Arab nationalist movement triggered by the Balfour Declaration

Worked diligently to block Jewish immigration into Palestine | engineered bloody riots against Jewish settlements in 1929 + 1936 | fired from his position after the 1936 riots | fled to Iraq, supported the pro-Axis revolts, issues a fatwa against the British on Baghdad radio | ran away to Berlin | received a 90 minute audience with Hitler in 1941 | was paid millions to live in luxury (reportedly stayed in stolen Jewish properties) and help the Nazis spread their anti-Jewish pro-Arab nationalist propaganda across Egypt + North Africa

Toured Yugoslavia to recruit for the Bosnian SS | wrote letters to various European leaders urging them to refuse Jewish refugees emigrating out of Germany in an attempt to flee nazi persecution and genocide | toured a Nazi concentration camp to learn about possibility of implementing a Project Z-type Final Solution in the Middle East | praised by Himmler as an important partner in freedom-seeking against the Jewish invaders

Appealed to Pope Pius XII for support of the Arab cause of Palestine, who rebuffed him with a noncommittal niceties
---
Islam and [Nazism] are close to each other in the struggle against Judaism. Nearly a third of the Qur'an deals with the Jews. It has demanded that all Muslims watch the Jews and fight them wherever they find them. In Khaybar, the Jews tried to poison Muhammad, who was sent by God, and undertook various attacks against him, all of which failed. All of Muhammad's attempts to bring them to reason failed, so that finally he found himself forced to do away with the Jews and drive them out of Arabia.
— Hajj Amin al-Husayni fomenting hatred against the Jews with his bullish1t exegesis in a speech to the imams of the Bosnian SS-Division, 4.10.1944
---
Adventures of Bad Hijabi is a reader-supported publication. To receive new posts and support my work, consider becoming a free or paid subscriber.
Chase pizza | Scream when The Stupid burns too loudly | wear yellow + eat cheeseburgers