Discover more from Adventures of Bad Hijabi
Oh hai. I'm disimpacting my brain.
Surrounded by Fanatics
the trouble with the Muslim world
Why did I become a Muslim, anyway?
Many rational western humans might wonder what on earth possessed me to become a Muslim. I didn't have a simple + satisfactory answer until now. I became a Muslim because Catholicism no longer made sense to me—I cannot be a trinitarian. I always felt deeply traumatised and offended by the brutality and violence and anti-Jewishness of the crucifixion being injected into my eyes + ears in the name of Love + Compassion. That felt wrong to me my entire upbringing—no explanation I received ever satisfied me, either. Have faith, the tired stock reply repeated itself, some things are a mystery. I did have faith though, that's what fortified me with the moral courage to keep seeking beyond the spiritual neighbourhood of my childhood. I do not believe in the divinity of Jesus. I believe He is the Messiah and I believe in the virgin birth. So, I cannot be Jewish. However, I do believe in The One God, and The Qur'an as taught by scholars like Safi Kaskas makes sense to me, presented as Divine revelation to guide humankind for all ages. Finally, Muhammad as a messenger to the world makes sense for me. So, that's me, A Muslim.
What about the fanaticism, though?
Yeah, that. That's the sound of me loudly sighing you just heard. The Muslim world has a massive problem, dude. That's fact, let's stop pretending that pointing this out equals hatred. It does not, okay? I find the Muslim community stiflingly self-absorbed + shallow + lacking introspection. The theocracts still exist here and they still want to tell me that rationality blocks me from the Truth of God, and I remain, still, unconvinced—the God-is-a-mystery-beyond-your-comprehension-but-not-mine-don't-question-me-b1tch approach to religion and God did not convince me as a Catholic with questions and it doesn't convince me as a weird new Muslim who DGAF if swallowing my toothpaste breaks my fast.
God gave me this intellect for a reason—to move through the world and know the things, to learn discernment, to learn how things and people and life develop + grow + function + operate, to understand the unknown and mysterious. All of this is how to find + choose God in my life. The purpose of this life = to perceive + choose God, Or Not. The choice happens at the level of the individual and I am responsible for my choices only. My prayer to God is every moment and every choice and every question and every yearning for what He has placed me into and onto and beside and within. I went from a faith culture that respects freedom of thought + belief + expression, one which had a painful reformation to shake things up, and suffered a mass exodus of membership just before my birth, to one that is locked into contracted captive-minded thinking that produces 1000 ignorant + fixed minded extremists who want to destroy humanity for each level five leader or inquisitive powerful mind who wants to build humanity with compassionate innovation.
My quest to find God in myself simplified —I can't be a trinitarian because I don't believe in the divinity of Jesus. I can't be a Jew because I believe Jesus is the Messiah. I believe in The One God + The Qur'an as a revelation from God for all humankind makes sense to me. Therefore I am a Muslim, which means to serve God through loving and serving His creation.
What was I thinking?
So, I went from a faith community trying to find itself under the weight of the institutionally forced secrecy of child sexual abuse, and into a faith community which refuses to see The Hate Everyone Gives Muslims as a collective rage response to the massive problem of radical thinking | fanaticism | terrorist mindset allowed to fester within the core of the Muslim community and in fact fomented by multiple and varied narcissistic hypermasculine d1ckbag agents from a cross section of communities and interests around the globe—for well over a century.
---
Adventures of Bad Hijabi is a reader-supported publication. To receive new posts and support my work, consider becoming a free or paid subscriber.
I walked into a faith culture which has, over the past 150 years—and with outside help to be sure—devolved into some hyper-masculine occidentalist British + French-hating anti-modernity woman-hating d1ckbag perverted corrupt 7th century wannabe warlord cult operating in 21st century society. These are people who cheered the recent attack on Salman Rushdie—no other group of humans did that. The rest of us recoiled in horror that a terrible fear we harboured all these years had finally materialized. This distorted + disturbing collective religious culture gives birth to the minds which make social media posts accusing someone somewhere of the mythical hate crime of Islamophobia because they saw footage of Iranian women protesting the regime by setting their hijab scarves on fire in the street.
A culture of victimhood breeds extremists. How did this community get to this place? That's my million dollar question because, to be blunt, I don't like the mindset I see within the Muslim community. However, the Qur'an contains so much untapped wisdom and mystical wonder, and Rumi derived his inspiration from the Qur'an. Extreme religious thinking to promote Machiavellian geopolitical interests harms human society and flies in the face of compassion. So, I will use this substack to turn my focus to this question going forward. How did the Muslim community get to this fixed + stagnated + radical mindset which starves critical + independent thinking? What are the roots of the anti-British + anti-French + anti-Jewish animosity?
I've come to observe certain patterns of distorted thinking over the past few years that cause me to raise Red Flags. I want and need to talk about them—we need to begin to have adult conversations about the roots of our current collective thinking as Muslims, and in the larger community as humans. No one reading this would deny the alarming growth in extremist thinking AND it's normalisation by present-day society. I will begin with these 20 observations of mine, their history, and what Qur'an says about the issue.
The eye candy is from Midjourney, in case you wonder.
---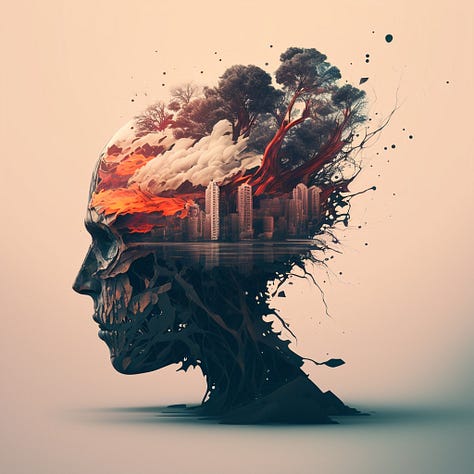 ---
So what did I notice when I became A Muslim?
Unapologetic publicly stated hatred for the same-sex attracted in God's name, verging on inciting genocide

Conflation of Arab culture with religious culture; Arab cultural chauvinism

Holocaust denial + scapegoating of + animosity toward Jews

Cultish promotion of Palestinian nationalism, and the concomitant albeit less obvious and often-denied promotion of the destruction of the state of Israel that goes along with the Arab nationalist movement

A cultish promotion of anti-British sentiment —caring only about certain kinds of land theft and not others (ie the blind spot vis á vis the Sauds)

An insistence on keeping political governance and religion connected—Holy Wars lose their edge when we separate Church + State

An insistence on the lesser jihad (holy war, ie terrorism) as the only way to effect change

Denial or minimizing the greater jihad (battle against ego, ie Sufism)

Welcoming vengeance to anyone who offends their ideas and beliefs

A fear and vilification of critical thinking and freedom of expression

A conflation of disempowered + blind rule-following with worshipping God

Tribalism—concern only for other Muslims and no other people or communities except to score points for doing charitable works

For example, in Canada, Muslims are fixated on Bill 21, non-plussed about growing anti-semitic hatred of the Palestinian movement and the CAHN controversy, and silent/absent on Bill C-16 and it's interprovincial counterparts

Hatred of the west, convinced of being a target of western hatred, and a simultaneous expectation to be saved by the west

Gender extremism and the denial of same except when it comes to the obvious domestic violence and male violence crises plaguing the community around the world

Bold challenges and irreverence seen as blasphemous and vilified accordingly—a future cast in the longtime past history of romanticised stories centred around imperial glory

Muslims are "free to choose" as long as the choice coincides with what the mainstream brainwashed mullah-driven Borg-ish hive mind says

Many Muslims feel threatened by an Islam Without Extremes

Many cradle Muslims actually feel as though "converts" need to submit to them and learn how to Muslim—yes, people who have never left their spiritual postal code somehow feel entitled to take others on a guided tour up the spiritually metaphorical fcuking K2 Summit to reach God!

Choosing to embrace the lazy mindset that dodges personal responsibility—seeing spiritually as a political conquest and not the conquest over self-control that it actually is.
---
A reminder—Bismillah Coaching, my coaching practise, focusses on helping people cultivate emotional intelligence and also on God Conscious intentionality when it comes to practising spirituality and faith. So, coaching the asshole inside your head, and for women who believe in God and who want to explore their faith + religion + spiritual journey—God vs Ego.