Discover more from Adventures of Bad Hijabi
Oh hai. I'm disimpacting my brain.
Mind flayers … were sadistic aberrations feared by sentient creatures on many worlds across the multiverse due to their powerful psionic abilities. From their twisted lairs deep in the Underdark, these alien entities sought to expand their dominion over all other lifeforms, controlling their minds to use them as obedient thralls. They consumed their victims' very personality by extracting and devouring their brains while they were still alive.
Goebbelsian public education + marketing considers it's prime objective grabbing the largest market share of people and rage farming the most minds toward a cause. Goebbels, ready to harness the possibilities of the new technology called radio, commissioned the design of a transmitting device—Volksempfänger he called it.
Few devices survived to present day, and yet—approximately 86% of humans on the planet have a modern-day day Volksempfänger, the Smartphone, and around one-third of humans on the planet have that OTHER modern-day Volksempfänger, Facebook. We use terms like unplugged and off the grid in our vernacular to remind ourselves that technology making our lives easier really means the panopticon-big-brother-is-watching-you-we-are-Borg-resistance-is-futile intrusion into our daily lives and existence.
What if we could see the Volksempfänger as the real occupying force + threat? That means what if we consider the mind as the occupied territory most in need of liberation?
Let's conduct a wee thought exercise + visualise the Volksempfänger as a mind-flayer. In the sci-fi fantasy reality of the multiverse people fear mind-flayers most of all because the power to get inside the mind and control you against your conscious will represents the ultimate defeat for us primally, arguably beyond death. Yet here we sit, leaning in + lining up to get that daily dose of excretory rage farming injected into our eyes and hearts (qalb).
How does the modern-day mind-flayer occupy minds? Let me list some very tiny ways that go unnoticed by most of us much of the time.
By equating Zionism with Kahanism.

By calling a flag designed by a british diplomat for the 1916 Arab Revolt (the recognised beginning of modern guerrilla warfare) the Palestinian flag.

By calling the state of Israel racist and apartheid for banning the Arab Revolt flag representing the destruction of Jews pretending to be a national flag.

By neglecting to tell us about the Nazis who went free after WW2, in particular the many who found a warm welcome in the Middle East, where Mein Kempf was published under the title My Jihad, in serialised form in a newspaper.

By insisting that the only Jewish state in the world be treated like every other nation. There are many Christian nations. There are several Islamic nations. There is one and only one Jewish nation and no one wanted it to exist not even the Americans and the British BTW and people still don't want it to exist.

By ignoring the blatant antisemitic and almost genocidal enthusiasm of the pro-Palestinian movement.

By refusing to see antisemitism in its larger historical context.

By infantalising Arab nationalists + Muslims extremists + identitarians and promoting that ridiculous Orientalism horsesh1t Edward Said wrote, whilst also ignoring al-Husayni rabid hatred of Jews and the Arab nazi collaboration.

By deciding that criticising Islamist extremism = Islamophobia whilst deciding that using Goebbelsian tactics to attack the world's only Jewish state is human rights + anti-colonialism.
I'm reminded of the Japanese soldiers who continued to fight after the war ended, not knowing Japan had surrendered. In 1974 Hiroo Onada emerged from the jungle where he had been waging guerrilla warfare for 29 years, to accept the order from his commander to lay down his arms. Watching a mob of angry students on Ann Arbor Campus scream for an intifada whilst holding a sign that says there can only be one solution sort of reminds of Hiroo Onada and his guerrilla warfare unit hiding out in the jungle, conducting raids and burning rice silos like the war was still on cuz no one told them that the war ended and people had moved on with life. That Japan survived and rebuilt shocked Onada, who believed that losing the war would mean the end for Japan. The caterpillar dies away + decays before it becomes a butterfly, though.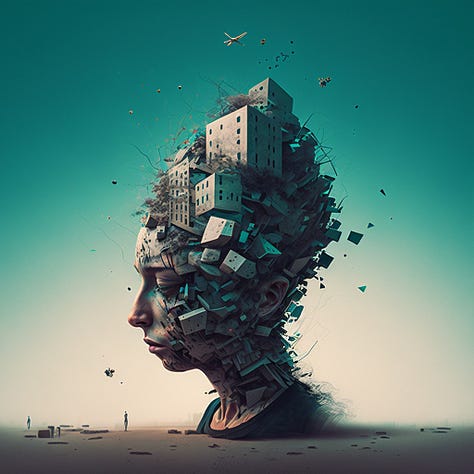 Imagine having brain so colonised by an idea someone inserted into your mind you cannot see the world for what + how it truly is—that is the true occupation. What if the occupied territory is the occupied mind who believes its solution lies destruction of The Other? The parasitic nature of the mind-flayer means that it prefers the brains of thinking creatures, stray memories and resentments provide it with a portal leading deep into the bowels and recesses of the psyche where all the good stuff lives. Mind-flayers possess a singular sense of self-importance, seeking to carry out their will at all cost—seeing everyone around them as a means to their end.
How did we get to this point where we are indulging mobs of terrorists screaming intifada and holding a sign calling for the one solution whilst waving a flag created by a british diplomat for an armed insurrection against a rival WW1 colonial power is seen as anti-racist activism? Yes, I'm gonna go out on a limb and say that anyone waving a guerrilla warfare flag and calling for destruction of Jews is LARPing terrorism and inciting genocide of Jews. The fcuking holocaust happened, pogroms happened, so I don't think that's hyperbole.
Why do Arab nationalists need Jews to die in order to achieve self-determination?
Are progressives okay? Like, you're LARPing Nazism and calling it anti-racism. You're using Israel and Jews as a giant projection screen for your ego. Dude that's fcuking disgusting — how does the world tolerate this hatred? I feel like Goebbels has time travelled to the future in the form of a mind-flayer. You cannot eat my brain. You cannot colonise my brain.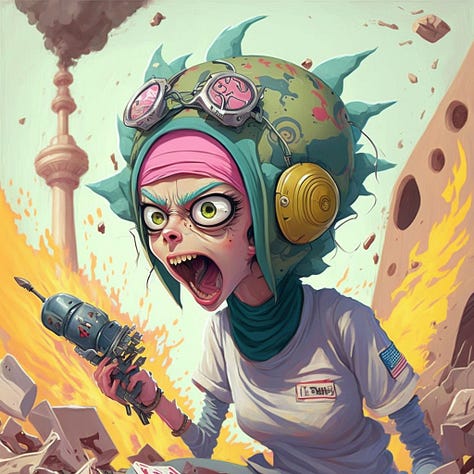 If you value the work we are doing here, please subscribe and share—help us spread the word about Adventures with Bad Hijabi. If you can, please consider donating to support the research and work that goes into creating this stuff.
Adventures of Bad Hijabi is a reader-supported publication. To receive new posts and support my work, consider becoming a free or paid subscriber.